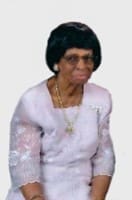 Esme V. Chinnery has died.
She was preceded in death by her sons: Al and Wayne Chinnery; and nieces: Joan Harrigan George and Daphne DeSilva.
She is survived by her daughters: Patrice Chinnery, Dr. Shirlyn Chinnery, Lavonne Clarke and Julene Clarke; sons: Glenn Chinnery, Erwyn Clarke and Kent Clarke; granddaughters: Malaika Chinnery, Tulani Chinnery-Isom, Sharifa Chinnery, Jaleese Chinnery, Shirnique Ruan-Biga, Shanice Fonseca, Ashanna Clarke and Chelsea Clarke; grandsons: Jareem Chinnery, Diop Chinnery, Sean Fonseca, Jolan Ruan, Jason Clarke, Forrest Clarke, Kenny Clarke and Uri Phillips; and great-granddaughters: Skyla Fonseca, Nyla McDonald, Miya McDonald, Sophia Biga, Dasia Isom, Dionni Isom, Liberty Chinnery, Dee-Ann Stuart,  Cali Bey and Amarah Washington.
She is also survived by great-grandsons: Demario Chinnery, Diop Daxton Chinnery, Taj Saunders, Aiden Saunders, Isaiah Ruan, Sean A. Fonseca, Jayse Lee, Carter Clarke, Tyson Biga and Titan Isom; great-great-granddaughter: Kennedy Jones; great-great-grandsons: Seven Chinnery and Lenoxx Isom; and nieces: Enola Foy, Dr. Elise Warner, Erica Yearwood, Esonia Orozco, Delois Abraham, Denice Gumbs, Donna King, Dawn Freeman, Laurette Williams, Faye Richardson, Debra Faulkner and Debra Banini.
Other survivors include nephews: Dale Abraham, James Harrigan, Jerry Harrigan, Joel Harrigan, Kevin Harrigan, Elroy Harrigan, Juneau Faulkner Jr., Kade Faulkner, Dion Herbert, Derek Herbert and Darel Herbert; sisters-in-law: Janice Harrigan and Dorothy Chinnery Mercer; daughters-in-law: Scharlene Chinnery, Ingrid Chinnery and Melinda Clarke; grandsons-in-law: Andrew Biga and Todd Isom; godchildren, cousins, relatives from the Chinnery, Clarke, Caiby, Abraham, Faulkner, Harrigan, Hatchette, Henley, Phillips and Vanterpool families.
The first viewing will be held from 3-5 p.m., Thursday, April 22, at Turnbull's Funeral Home. The second viewing will be held at 9 a.m., Friday, April 23, at Christ Church Methodist with a service to follow at 10 a.m. Interment will be at Western Cemetery No. 1.