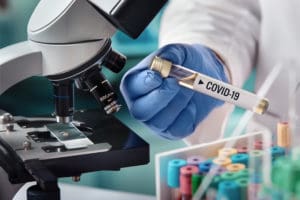 Schneider Regional Medical Center on St. Thomas will relaunch its drive-up COVID-19 testing site on Wednesday.
The testing site will operate Monday through Friday from 8:30 a.m. to 11:30 a.m. until further notice, the hospital announced in a press release Tuesday night. The drive-up site is located at the hospital's front parking lot in Sugar Estate, adjacent to the main lobby.
No physician referral is necessary, but online registration is preferred. Persons can register
online at https://www.srmedicalcenter.org/register-app.
Tests are $125 each when registered online and $140 when registering in-person, payable by debit or credit card, the release stated. No cash payments will be accepted, it said.
"The exponential increase in COVID-19 cases in the territory has created the need for additional testing sites, prompting SRMC's decision to reopen the site, which closed last year when COVID-19 numbers had declined," said Chris Borgesen, vice president of operations. "When reopened, the site will offer the highly efficient PCR Oropharyngeal Swab COVID testing through our fully automated Holistic Panther Fusion System."
The tests offer results with higher sensitivity, greater accuracy, and a quicker turnaround time, according to the release.
Along with the Virgin Islands Health Department, SRMC encourages residents to protect themselves and their families by getting vaccinated. Vaccination sites and other
information is available at https://www.covid19usvi.com/vaccines.
For more information, call 340-776-8311, ext. 5094.