Researchers and marine environmentalists hope recent water samples will solve the puzzle of what is causing the familiar long-spine sea urchin to die in great numbers in Virgin Islands waters. Meanwhile, they've established that whatever the cause, currently, it is confined to the general area where it was first spotted in February.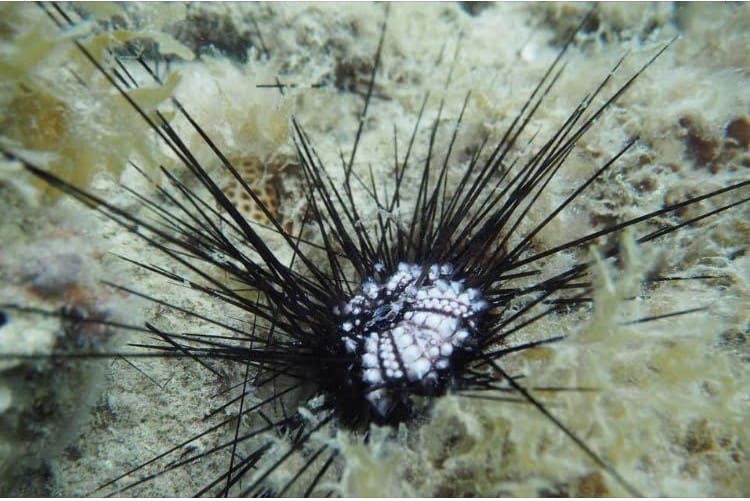 "It's limited to the southwest area of St. Thomas," University of the Virgin Islands Professor Marilyn Brandt told the Source Friday. Sightings include Flat Cay, Black Point, and Lindberg Bay. She added that it has been found even further west than first expected. "It's all the way to West Cay."
The Department of Planning and Natural Resources, UVI, environmental and marine non-profit entities, including VI Reef Response, and commercial and amateur divers have checked out sites around St. Croix, St. Thomas, and St. John, in the past few weeks, looking for signs of sea urchin die-off, but have found nothing outside of the initial area.
They've also been on the lookout for an outbreak of coral bleaching, which has affected some elkhorn coral near St. John.
"That also seems to be very limited … to the south side of St. John," Brandt said.
Both phenomena are concerning to marine interests. In the 1980s, about 90 percent of the long-spine sea urchins inhabiting V.I. waters were lost in a massive die-off whose cause was never determined. Coral bleaching has plagued Caribbean reefs periodically for decades; starting in 2019, there was a new menace, stony coral tissue loss disease, which has destroyed vast areas of reefs around all three main Virgin Islands.
Water samples collected about a week ago are being analyzed for multiple indicators, including oxygen levels, solidity, nutrients, sewage, fecal, and other contaminants that may have stressed the sea urchin population, according to Brandt.
There should be some results coming within the week, and she said, specifically the presence or absence of sewage. Information about various nutrient levels will take longer, and results aren't expected until April.
The sea urchin die-off may have been caused by excessive run-off from St. Thomas, especially if that water held contaminants or was overly nutrient-rich. If so, corrective measures could be determined relatively easily.
If the problem is disease-related, and if it's spreading, Brandt suggested local authorities may reach out for federal assistance. Meanwhile, UVI and DPNR continue to monitor territory reefs, with the help of citizen scientists, looking for any indication of spread.
"DPNR has been leading the efforts to correlate all the reports" from both professional and citizen scientists, Brandt said.
They want photos of both healthy and unhealthy urchins and corals, she said, in order to pinpoint where there are problems.
Photos can be submitted to: https://bit.ly/3gUVZL8