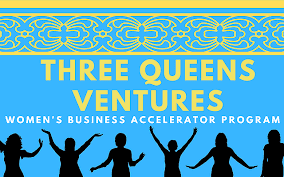 Innovation and Entrepreneurship Center (IEC), the nonprofit division of SEAT (Supporting, Empowering, Advising, Training) Caribbean LLC, announces it is actively recruiting for the third cohort of their Three Queens Ventures Women's Business Accelerator.
This program supports female entrepreneurs in the U. S. Virgin Islands (U.S.V.I) who are interested in growing or expanding their current businesses.
The focus of Three Queens Ventures will be on female makers, artists, craftspeople, designers and small batch manufacturers who reside in the U.S. Virgin Islands and whose products are made and manufactured in the U.S.V.I. Through an individualized business development program, each entrepreneur will enhance her skills, acquire new knowledge and training, learn best business practices, and receive mentorship and guidance from industry professionals.
Additionally, every participant will have an opportunity to access seed funding and potential market partnerships that are critical to her business.
Three Queens Ventures aims to build a collective comprised of a network of like-minded women whose primary objective is to scale their existing business for success, while providing employment opportunities and contributing to the economic development of the U.S.V.I.
Laura Forbes, a participant in the program's second cohort, said, "Participating in the Three Queens Ventures program afforded me the opportunity of being mentored by subject matter experts on a variety of business topics including trademarks, strategic planning and innovation — just to name a few. As a result, our glass studio, DaLaurJo LLC, is better positioned for the global marketplace." Owner of the Creative Native Gallery, Ama Dennis, said, "Three Queens Ventures helped me develop a consistent narrative about my business which translated to my marketing materials, discussions with future clients, and the development of my website. This consistent message has enhanced and improved my approach to building my business strategy."
The deadline to apply is Sept. 19. The application is available online at
https://www.seatcaribbean.com/three-queens-ventures
About SEAT IEC
SEAT Innovation and Entrepreneurship Center Inc. (SEAT IEC) is a U.S. Virgin Islands 501(c)(3) non-profit organization that empowers entrepreneurs within the territory because they are one of the primary vehicles through which a community's economy can grow.
The mission of SEAT IEC is to support, empower, advise and train individuals who have traditionally been underrepresented in the small business arena. For more information about Three Queens Ventures, visit https://www.seatcaribbean.com/three-queens-ventures