Sen. Kenneth Gittens has given Port Hamilton Refining and Transportation CEO Charles Chambers until Monday to provide answers to questions first raised during a legislative committee hearing on July 14.
Chambers told the Senate Committee on Economic Development and Agriculture, chaired by Gittens, that he would provide information about the company's ownership, plans to restart the refinery, and environmental remediation efforts, but more than six weeks later, that information has not been forthcoming, the senator said in a statement Friday.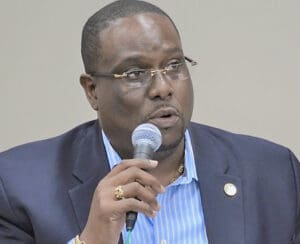 Gittens also sought to arrange a tour of the St. Croix facility, which has been shuttered since May 2021 after a disastrous restart attempt by former owner Limetree Bay Refining that resulted in significant toxic emissions affecting scores of neighboring properties. Limetree was ordered shut down for 60 days by the Environmental Protection Agency and in July 2021 filed for Chapter 11 bankruptcy.
Port Hamilton and West Indies Petroleum Limited — of which Chambers is also the CEO — were declared the winning bidders at the subsequent bankruptcy auction in December. However, WIPL has since said it has no stake in the refinery but was merely a participant in the early bidding process, causing more confusion about the ownership.
Meanwhile, despite reaching out to Port Hamilton directly and its designated Virgin Islands representatives to follow up on obtaining the information and arranging the tour, the requests have gone ignored, said Gittens.
The senator said that he had hoped to provide a clearer picture as to the sale of the refinery, plans to reopen, and the status of environmental cleanup and monitoring projects. While the July 14 committee hearing was informative, Port Hamilton's representatives were unable to answer some basic questions, to include providing the names of its shareholders, he said.
"I understand that there has been a smoldering coke fire at the refinery these last few weeks, but we began our efforts to obtain this information long before the fire was reported," Gittens said, referring to an incident Aug. 8, which was followed by a fire in the petroleum coke conveyor loading system on Aug. 21. "Why is it so difficult for this company to simply tell us who owns it?"
Gittens said he reiterated his requests in a letter to Chambers dated Aug. 26, to include an update on the fires.
Port Hamilton also is facing a deadline from the Environmental Protection Agency to respond to questions about the fire and the smoldering coke pile. In a letter dated Aug. 18, the agency gave refinery officials 14 days to reply, noting, "While EPA seeks your cooperation in this investigation, compliance with the Request for Information is required by law."
"This fire certainly has no bearing on the release of the list of Port Hamilton's shareholders, which Senators had requested prior to the end of our discussion on July 14," Gittens wrote in his letter to Port Hamilton. "It is somewhat concerning that, more than six weeks later, we have yet to receive this most basic information from Port Hamilton Refining & Transportation."
Other information requested during the Senate hearing included:
A detailing of the three planned restart phases described in Port Hamilton's testimony.
A list of the 170 jobs said to be available beginning in September 2022 and the salary ranges.
Copies of correspondence to and from the U.S. Environmental Protection Agency related to the refinery restart.
A list of the location of the nine surrounding air quality monitors.
A list of PHRT's resident agents, directors, and principal officers.
Gittens said he has repeatedly urged the new refinery owners to be transparent about their plans given widespread community concerns and questions related to the massive economic and environmental impact of the refinery on St. Croix.
"I have requested that this information be provided no later than Monday, September 5," Gittens said, adding that senators also are awaiting more information from Gov. Albert Bryan Jr.'s administration as to their point person on issues related to the refinery.
The Source reached out to Chambers via email on Friday afternoon, seeking comment on Gittens' requests as well as the status of the fires at the refinery, but had not received a reply as of Friday night.