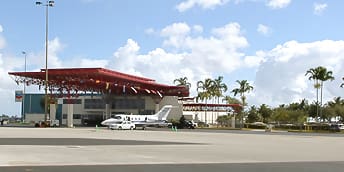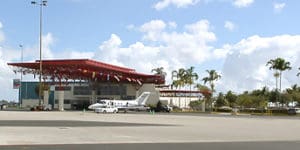 For the second time this month, a Virgin Islands Police officer is on his way to federal prison. Officer Shakim Mike, 29, was ordered to serve 150 months by a Florida judge on Wednesday, in connection with a drug smuggling scheme disrupted by authorities in January.
Two co-conspirators also heard their sentences at a virtual hearing held in District Court of Southern Florida before Senior Judge Paul C. Huck. The three defendants were among six people apprehended after a private plane from St. Thomas landed in Miami with a large quantity of cocaine on board.
Mike pleaded guilty to possessing 294 plastic-wrapped bricks of cocaine when he arrived at the Opa Locka Executive Airport Jan. 12, along with fellow VI Police Officer Teshawn Adams. Adams was sentenced on Oct. 5 after he plead guilty to cocaine possession.
Florida residents Tevon Adams and Anthon Berkeley, were each ordered to serve 70 months for their role in the drug conspiracy on Wednesday. A fifth co-defendant, Maleek Leonard, received his sentence along with Teshawn Adams last week.
At the time of his sentencing, the lawyer representing Officer Adams asked for a lesser sentence and pointed to Mike as the ringleader. But prosecutors with the U.S. Attorney's Office in the Florida Southern District disputed that claim.
The prison term handed to Mike was less than the 15 years given to Teshawn Adams. Through the sentencing memorandum filed by Federal Public Defender Michael Caruso, Officer Mike expressed regret for his role in the conspiracy and asked for leniency, based on his cooperation with investigators after his arrest on Jan. 13.
As part of each of the five sentences handed out, defendants were ordered to serve five years' probation apiece upon release from prison.
The sixth defendant, Royston David, also arrived in Miami on board the drug-laden flight. He has pleaded not guilty and is currently working with a lawyer to have the charges brought against him dismissed.