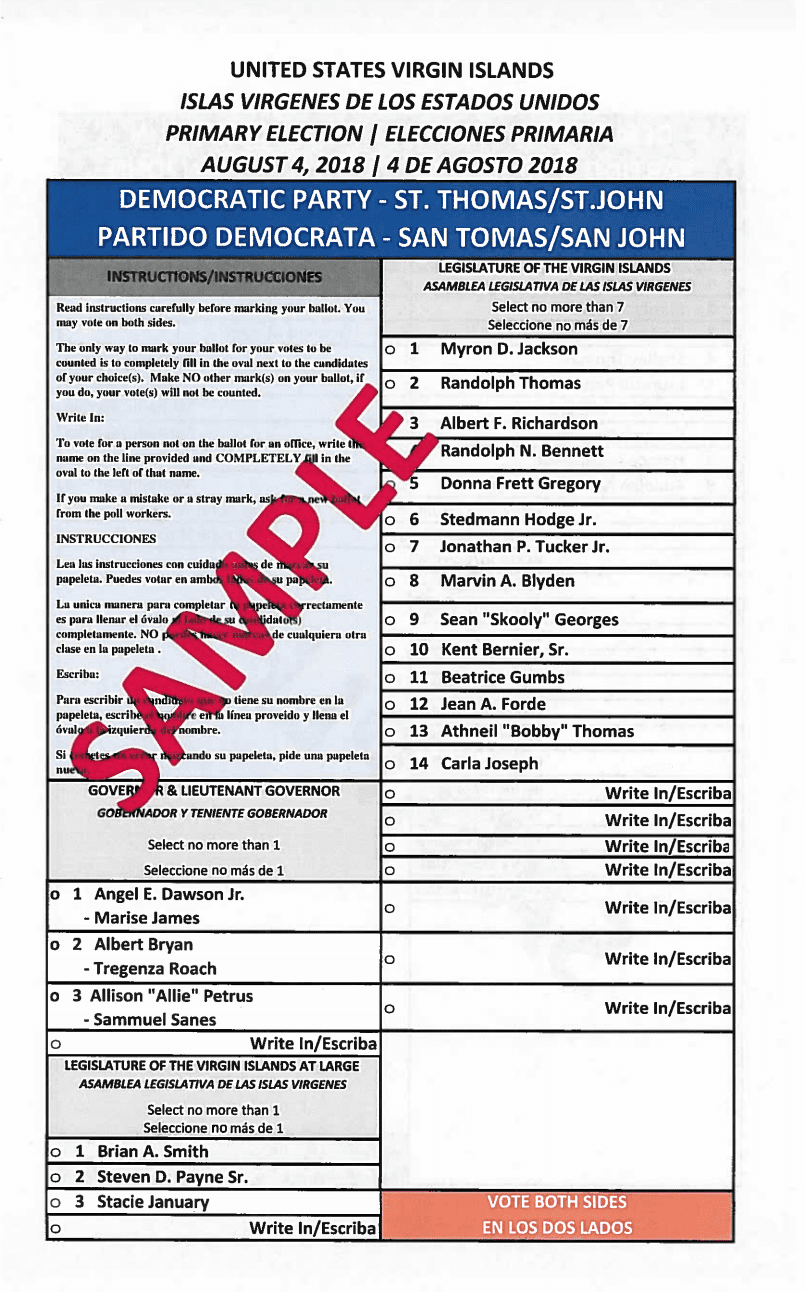 At present, 110 individual candidates are on the official listing issued by the Supervisor of Elections for this year's Sat., Aug. 4 primary and Tues., Nov. 6 general election.
Incumbent Democrat Stacey Plaskett is running unopposed to represent the territory in Congress. There are 9 teams officially running for the office of governor and lieutenant governor. Two more candidates, Sen. Positive Nelson and Gary Udhwani, filed nomination papers but Supervisor of Elections Caroline Fawkes disqualified many of the petition signatures due to Udhwani not being registered to vote at the time the signatures were collected. The issue is being decided in court.
Five individuals are running for the position of at-large senator, with three facing off in the Saturday, Aug. 4 Democratic Party primary. Twenty-five people are running for St. Thomas' seven seats in the Legislature, with 14 Democrats vying in the primary for seven spots on the ballot. St. Croix has 29 candidates for the Legislature, with 17 Democrats vying for seven spots on the ballot. Six are running for the Board of Education and nine for the Board of Elections. And 27 people are seeking party offices.
Many incumbents are running again. Delegate Stacey Plaskett is seeking reelection to Congress and Gov. Kenneth Mapp and Lt. Gov. Osbert Potter are seeking reelection.
[adrotate group="6"]
While most incumbent senators also are seeking reelection, several are instead seeking higher office. Sens. Janette Millin Young and Positive Nelson are both running for governor. Sens. Tregenza Roach, Sammuel Sanes and Alicia "Chucky" Hansen are both seeking the office of lieutenant governor. Sen. Nereida Rivera-O'Reilly is not listed as a candidate for reelection to her St. Croix seat.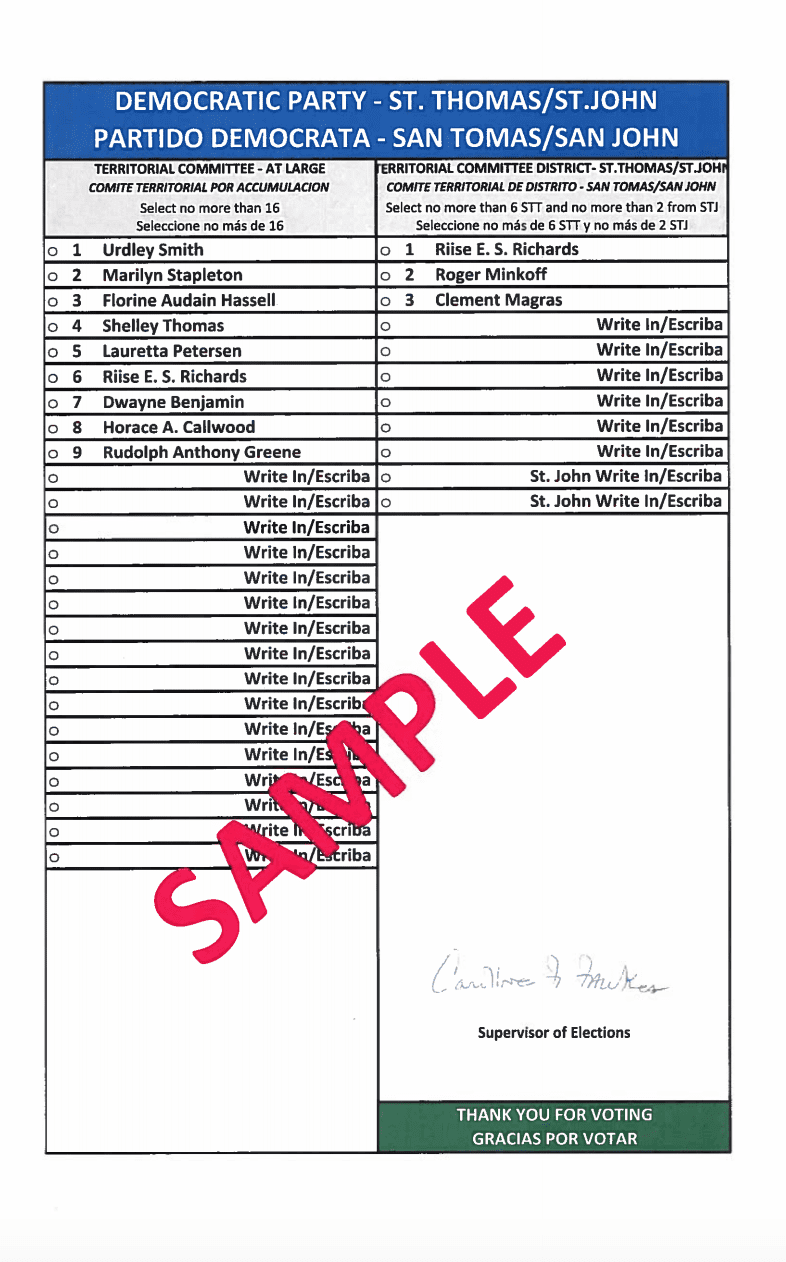 Many past office holders are running again. Former Sens. Allison Petrus and Adlah "Foncie" Donastorg are running for governor. Norman Jn Baptiste, Steven "Smokey" Frett, Juan Figueroa-Serville, Emmett Hansen and Kenneth Gittens are among the former senators seeking to rejoin that body.
Here are the 2018 candidates for USVI office. Those running in the August 4 primary are in italics.
Delegate to Congress:
Stacey Plaskett, Democrat
Governor and Lieutenant Governor:
Kenneth Mapp and Osbert Potter, no party
Albert Bryan and Tregenza Roach, Democrats
Warren Mosler and Ray Fonseca, no party
Allison Petrus and Samuel Sanes, Democrats
Moleto A Smith Jr. and Hubert Lorenzo Frederick, no party
Adlah "Foncie" Donastorg and Alicia "Chucky" Hansen, no party
Soraya Diase Coffelt and Dwight E. Nicholson, no party
Janette Millin Young and Edgar L. Bengoa, no party
Angel Dawson and Marise James, Democrats
Senator-at-Large:
Stacie January, Democrat
Steven D. Payne, Democrat
Brian A. Smith, Democrat
Sherry-Ann Francis, no party
Angel Bolques Jr., no party
Senatorial candidates in St. Thomas and St. John:
Stedmann Hodge Jr., Democrat
Marvin A. Blyden, Democrat
Albert F. Richardson, Democrat
Jonathan Paul Tucker Jr. Democrat
Jean A. Forde, Democrat
Carla Joseph, Democrat
Donna Frett Gregory, Democrat
Sean "Skooly" Georges, Democrat
Athneil "Bobby" Thomas, Democrat
Randolph Thomas, Democrat
Myron D. Jackson. Democrat
Randolph N. Bennett, Democrat
Beatrice M Gumbs, Democrat
Kent G. Bernier Sr., Democrat
Bruce C. Flamon, Republican
Alma Francis Heyliger, ICM
Steven Smokey Frett, ICM
Wilma Marsh Monsanto, no party
Dwayne DeGraff, no party
Margaret Price no party
Irvin "Pudna" Mason, Sr., no party
Dolores Todmann, no party
Janelle K Sarauw, no party
Gustave R. Dowling Jr., no party
George Trager, no party
Senatorial candidates in St. Croix
Kenneth L. Gittens, Democrat
Alicia Barnes, Democrat
Javan James, Democrat
Robert B. Moorhead, Republican
Ronald Hammer, Democrat
Allison DeGazon, Democrat
Kurt Vialet, Democrat
Oakland Benta , Democrat
Lilliana Belardo DeOneal, Republican
Neville James, Democrat
Carew Felix, no party
Novelle E. Francis Jr., Democrat
Dean R. Andrews, Democrat
Malik Stridiron, no party
Norman Jn Baptiste, no party
Annette L.S. Scott, Democrat
Patricia James, no party
Juan Figueroa-Serville, Democrat
Omar Hashim Henry, no party
Michael J. Springer, Jr. no party
Troy Mason, Democrat
Emmett Hansen, no party
Karen Chancellor, Democrat
Ophellia Williams-Jackson, Democrat
Daren R. Stevens, no party
Douglas Canton, Democrat
Abraham Ortiz, no party
Terrence D. Joseph, Democrat
Genevieve Whitaker, no party
Board of Elections:
Atanya Springette, Democrat
Harriet A. Mercer, Republican
Barbara Jackson-McIntosh, Democrat
Raymond J. Williams, Democrat
Eduardo Carmona, Democrat
Frederick R. Espinosa, Republican
Board of Education:
Judy Gomez, Democrat, STT
Jeanette Smith-Barry, Democrat, STT
Nandi Se'Kou no party, STT
Shawna Richards, Democrat, STX
Winona A. Hendricks, Democrat, STX
Terrence T. Joseph, Democrat, STX
Susanna Callwood-Smith, Democrat, STX
Emmanuella Perez-Cassius, Democrat, STX
Carmen Rodriguez, no party, STX
Party offices:
Democrats – STT
Edgar B Phillips, District Chair, STT District
Riise E.S. Richards, Territorial Committee, STT District
Clement Magras, Territorial Committee, STT District
Rudolph Anthony Greene, Territorial Committee, At Large
Riise E.S. Richards, Territorial Committee, At Large,
Marilyn A. Stapleton,Territorial Committee, At Large
Horace A. Callwood, Territorial Committee,At Large
Roger B. Minkoff, Territorial Committee, STT District
Dwayne Benjamin, Territorial Committee, At Large
Urdley N. Smith, Territorial Committee, At Large
Democrats-STX
Florine Audain Hassell, Territorial Committee, At-Large
Donna M. Christensen, Territorial Committee, STX District
Sonia Boyce, Territorial Committee, STX District
Lauretta Petersen, Territorial Committee, At-Large
Renee McAlpin-Petersen, STX District Chair
Peter A. Abrahams, Territorial Committee, STX District
Shelley Thomas, Territorial Committee, At-Large
Cecil R. Benjamin, State Chair
Cecil R. Benjamin, Territorial Committee, STX District