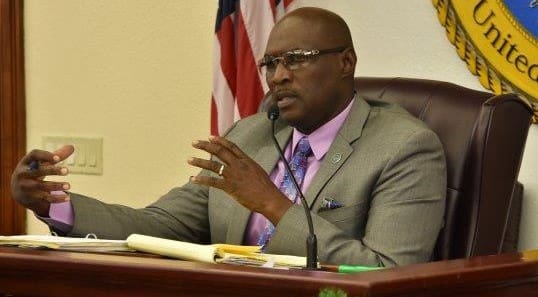 After senators spent the morning and most of the afternoon on Tuesday discussing the governor's proposal to refinance government debt, they found themselves facing three more significant proposals related to the territory's State of Emergency.
Two of the measures sparked little discussion. One was an act regarding the governor's authority to borrow monies from local banks to fill revenue shortfalls resulting from the COVID-19 pandemic. The money can be used to create working capital, avoid layoffs of government employees, pay essential obligations and meet operating expenses.
The Senate approved such a measure for the year 2020. Its action on Tuesday extended the governor's authority to borrow through 2021.
The second measure the Senate approved was an extension of the State of Emergency in the territory – due to the pandemic – for 60 days from Dec. 8, 2020, to Feb. 6, 2021.
[adrotate group="6"]
A third measure was also related to the State of Emergency, but it did not receive a favorable reception from the senators. It aimed to broaden the definition of what represents a public nuisance. The broadened definition would enable police officers to charge residents who violate executive orders resulting from the State of Emergency with misdemeanors.
Senators voted to hold off any action on that measure until Dec. 11.
Denise George, V.I. attorney general, testified, "This measure seeks to provide for the enforcement of executive orders by establishing criminal penalties for those who chose to violate a governor's executive orders during a declared State of Emergency. It is designed to enforce compliance in order to protect the health, safety and well-being of every person in our community from the dangerous effects of COVID-19 and other natural disasters, by a means which only this body can remedy."
Sen. Kenneth Gittens said, "If we just enforced what is on the books, we would be a better place."
Sen. Kurt Vialet echoed that concern. "We can't even enforce the loitering law," he said.
The proposed measure would broaden the definition of public nuisance to "including anything that endangers the public peace, health, safety, welfare, economic well-being or lives and property of citizens of this territory," and "establish penalties for actions that endanger public peace, health and safety, in order to preserve the lives and property of the people of this territory during states of emergency."
George said, "Governor Bryan's executive orders have directed and proscribed certain conduct designed to stop the spread of the COVID-19 virus and to protect the health and wellness of the public. These include stay-at-home orders; curfews; requiring the wearing of face masks; limiting the number of persons congregating in any one particular location at a given time; social distancing; and more. Compliance by every single person in our community is essential to effectively and successfully achieve the purpose of these orders. Unfortunately, however, there is no mechanism to effectively enforce individual compliance of the orders through arrest and prosecution. As it stands now, Virgin Islands law does not create a crime nor provide a criminal penalty specifically for violation of a governor's executive orders during a State of Emergency."