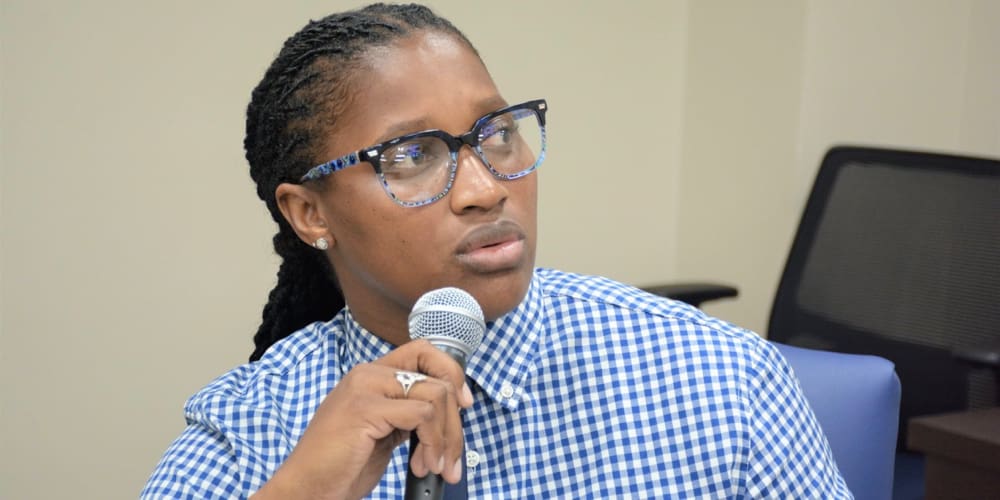 The Senate Committee on Education and Workforce Development on Friday advanced legislation sponsored by Sen. Janelle Sarauw to repeal the current law allowing the use of corporal punishment within U.S. Virgin Islands' public schools.
Similar legislation has been attempted before and fallen short despite overwhelming support from the Department of Education and medical experts but during Friday's hearing the discussion focused on the history of corporal punishment and the "concept of decolonizing parenting."
Psychotherapist Nisha de Jean Charles of Buoyant Living Psychotherapy said there are historical origins of corporal punishment in the black community that the public and committee should take into consideration.
"Violence against our children is a legacy of slavery, whereby enslaved Africans were not only beaten into submission but were made to perform these violent acts on each other in the presence of the slave owners," Charles said. "Historians and anthropologists alike found no evidence that ritualistic forms of physical discipline of children existed prior to the Atlantic slave trade. Instead, the opposite is true. West African societies held children in a much higher regard than slave societies."
During Sarauw's opening statement to her colleagues, she said that when she offered the legislation last year it "was gutted" and corporal punishment removed from the bill because legislators "went and found a Bible" and cited scripture as their reasoning. Then the legislators justified keeping corporal punishment, sharing horrendous stories "of how they were beat as a child" and "the more I heard, the more it just sounded rooted in slavery."
While the legislation lacked support last year, during Friday's hearing Sen. Milton Potter advocated for the bill. He said having been someone who grew up around corporal punishment, it is common in the Virgin Island to get together with friends and discuss it in "sort of a nostalgic kind of way."
"It's almost like a badge of honor. It's like war stories that you're sharing. But it is clear that all of these experts in the field … consistently come down against corporal punishment. So, for us to pick and choose when we want to follow the experts, when we want to accept what they are saying – that's wrong," Potter said. "The time to end corporal punishment in our education system, officially, without any mixed messages – is now. I know we were all corporally punished, but there is a better way now."
Though 31 states have banned the practice of corporal punishment within public educational institutions, the territory has not, and "we have become complicit in our efforts to disallow modern-day violence," Charles said. She added that several studies indicate the use of corporal punishment disproportionately affects the black community, children with learning disabilities, and males. "These kids are more likely than not to have further problems with the law."
Providing numerous cited references for various research studies, Charles said the research shows physical punishment is associated with higher levels of aggression against parents, siblings, peers, and spouses.
Virgin Islands Department of Education Commissioner Racquel Berry Benjamin said the department entirely supported the measure and agreed the "effects of corporal punishment are adverse and long-term; having negative effects on the mental, emotional, and social health of children, that can carry into adulthood."
Not only in agreement Benjamin also championed the language of the bill which would replace "an ambiguous statement" in the existing law. "It upgraded it with a strong structure to start building a more positive, communication-centered relationship between students and teachers. This protects our students from subsequent misunderstandings."
While the department has supported the ban of corporal punishment in prior iterations of the bill, Sarauw said the "emotional intelligence" within the territory's education system is "inadequate."
Charles, who equated corporal punishment with abuse, said it is time for "a cultural shift where we employ effective disciplinary strategies appropriate to a child's age and development." By coaching students on emotional regulation, self-soothing, and conflict resolution skills, Charles said, "We will help teach children to regulate their own behavior, keep them safe from harm, and enhance their cognitive, socio-emotional, and executive functioning skills."
Sens. Sarauw, Potter, Donna Frett-Gregory, Carla Joseph, Kurt Vialet, and Genevieve Whitaker were present for the hearing. Sen.Kenneth Gittens was absent. Additional non-committee members also attended the hearing.