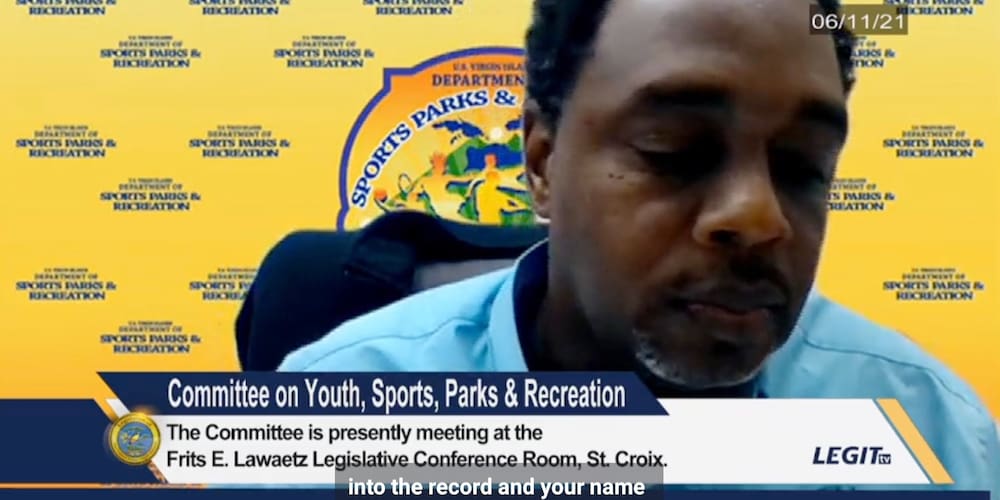 Witnesses testifying at a hearing Friday touted the success of the "Student-Athlete Combine in a Bubble" program before the Senate Committee on Youth, Sports, Parks and Recreation, but the lawmakers expressed concern about several aspects of the project.
The territory's Department of Education, Department of Sports, Parks and Recreation, and Department of Health collaborated on the program, which ran from Nov. 4 to 25 and was designed to allow 78 junior and senior student-athletes to train during a one-week sleepaway camp at the University of the Virgin Islands.
Participants were told there would be video-recorded exhibition sessions showcasing their abilities. The recordings could be sent to prospective colleges, athletic recruiters, and scouts.
But not everything went according to plan, the committee was told.
"The department hoped to create player profiles for each athlete. However, after compiling the footage for the five days there was not enough individual footage for every player. The footage we did receive is an introduction to a player profile," said Assistant Commissioner Vincent Roberts of the Department of Sports, Parks and Recreation, speaking on behalf of Commissioner Calvert White.
The Department of Education spent almost $5,000 out of the $110,000 budget on the livestreaming and video profile that student-athletes never received.
"I was very taken aback and a little upset about that, because the purpose of sport combines is not only for drilling but also to gather this footage that some of these students could utilize … in order to help them get scholarships," Sen. Alma Francis-Heyliger said. "So why did we spend almost $5,000 with a company that didn't even understand the process of getting profiles, collecting the data, and information of these profiles … I almost feel like this was a waste of money."
But Roberts said it was less an issue with the company and more an issue with the student-athletes.
"Some of the footage that was taken could not be used because of the conditioning of the athletes. It's not all the footage that is taken you would want presented to a coach."
That answer appeared to anger Francis-Heyliger further.
"To just pay out money to say you got video footage and then tell me after the fact it was basically useless is not only a waste of my money as the taxpayer, but also a waste of the monies and time of these children that participated in this program," she told Roberts. "You don't go create these things and be spitting out this type of money and then at the end of these programs you don't really have nothing to show for it. Just a $5,000 bill and you don't even got footage."
This wasn't the only gripe committee members had about the program. Non-committee member Sen. Janelle Sarauw, who serves as a coach to Charlotte Amalie High School's varsity volleyball team, said she was never contacted about what student-athletes she might recommend for the program, even though the entire purpose of the program was to utilize school coaches for recommendations of top athletes that may benefit from the program.
Department of Education Assistant Commissioner Victor Somme III, appearing on behalf of Commissioner Racquel Berry-Benjamin, said in the department's database Sarauw is not listed as the coach for the high school's volleyball team.
"Many of the coaches were asked. Sen. Sarauw, even if she is a coach, she may not have been asked but that doesn't diminish the fact that many coaches were asked who they thought could be players that could go to the bubble," Somme said.
Sen. Franklin Johnson complained that, while the Department of Education provided transportation and even airfare for participants who came from the territory's public schools, a separate entity had "to step in" and provide it for privately schooled students.
Although the majority of the hearing was dominated by issues the senators thought should have been handled better, some witnesses maintained the "Combine in a Bubble" was a success.
"Anecdotal evidence suggests that student-athlete participation in the 'Combine in a Bubble' helped to contribute to scholarships by creating exposure for students," Somme said. "DSPR demonstrated innovation by providing an athletic opportunity in the midst of the COVID-19 pandemic and approximately nine of the student-athletes were able to acquire scholarships to attend a college or university for the 2021-2022 school year."
Sens. Francis-Heyliger, Johnson, Dwayne DeGraff, Javan James Sr., Carla Joseph, Steven Payne, and Samuel Carrion were present for the hearing. Additional non-committee members were also present.