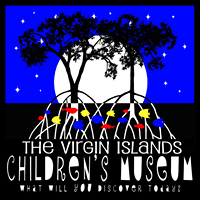 The Virgin Islands Children's Museum invites the people to watch and share their "Cultural Ambassador" videos highlighting V.I. culture bearers. Thanks to funding provided by the National Endowment for the Humanities (NEH) through the CARES Act, this program will help to bring educational and cultural information to families who still do not currently have access to face-to-face educational activities.
"While the museum was closed last year, Interim Director Rebecca Hoffart came up with this amazing idea to keep the community engaged even though we couldn't welcome families into the museum. Unfortunately, due to some partners withdrawing from the idea, it has become an entirely in-house production, but I most certainly enjoy sharing the works and history of our young and seasoned culture bearers," said Chantel Hoheb, museum director.
The social distancing that was made necessary during this pandemic has made it even more important to feel connected to the community. Program Director Amber McCammon said, "It is the VICM's goal to create life-long learners of the children and adults that visit the museum. Connecting their passions to our culture will only help to create a more harmonious and prosperous Virgin Islands community, on and off island."
Virgin Islanders all over the world can watch the Cultural Ambassador videos on the museum's YouTube Channel at https://bit.ly/3pMwgZ8 or Facebook page. Visit the VI Children's Museum online to go on a personal journey with VI artist Jasmine Lindquist and storyteller, Yohance Henley. Viewers get to explore their backgrounds and get tips on how to encourage the people in their lives (especially children) to find their passions through culture and hopefully make a living doing what they love. Future ambassadors will include the Caribbean Ritual Dancers and madras fashion designers from St. Croix.
"We were fortunate enough to receive this grant through the Community Foundation of the Virgin Islands and hope that it can provide an ongoing boost to cultural education and pride in the territory," said Chantel.
The goal of the Cultural Ambassador program is to weave the existing VICM program with more threads of VI culture so that VI youth can be encouraged to find their passions and interests and make them feel a part of something bigger so that no matter where their lives take them, they can always feel at home within their VI communities.
Be sure to follow the Virgin Islands Children's Museum on Facebook and Instagram to watch their newest content and stay up to date with the organization.
www.facebook.com/vichildrensmuseum