Two separate traffic stops led to three arrests in St. Thomas Friday. In St. Croix, four young men were arrested for "playing with" firearms early Sunday, police said.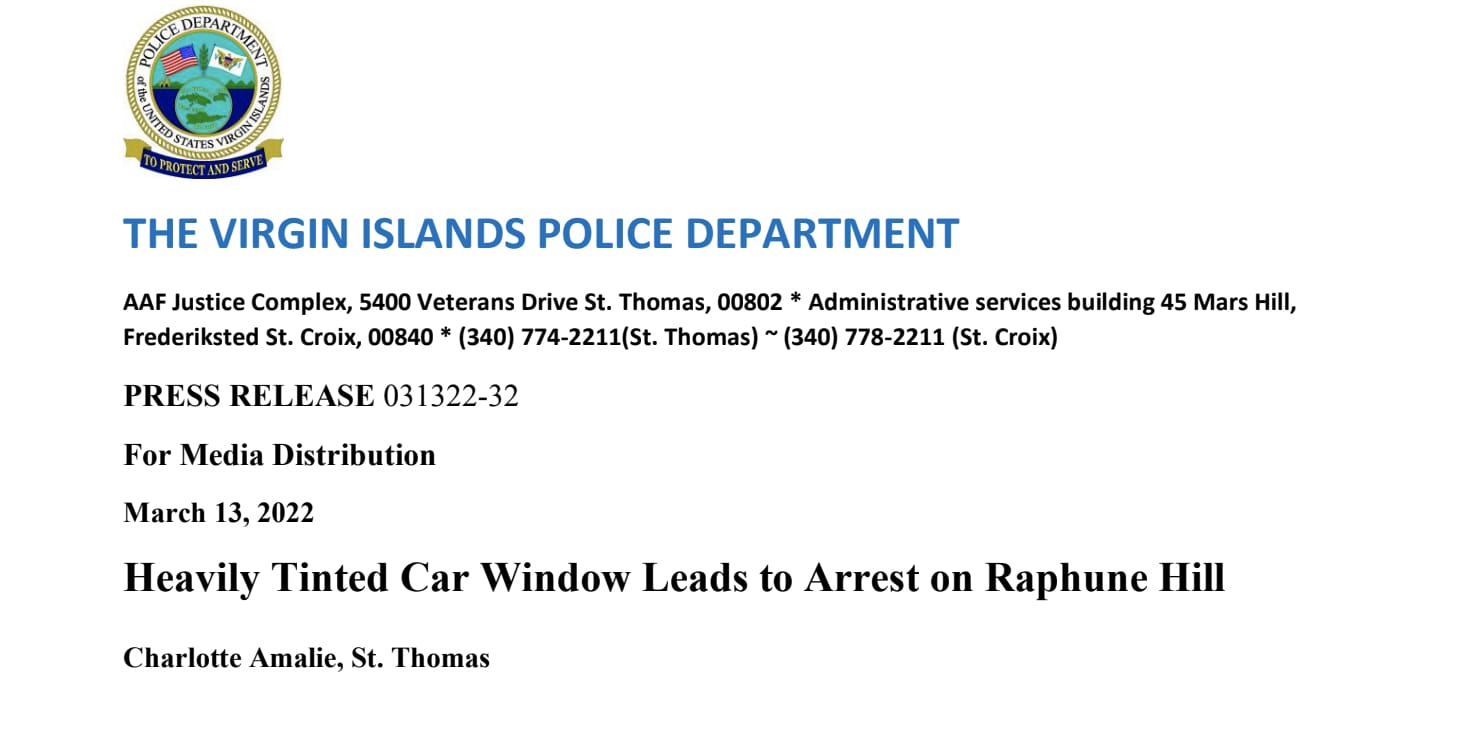 Just after 1 A.M. Friday, police stopped a car on Raphune Hill for its heavily tinted windows, something Police Commissioner Ray Martinez had promised as part of his new broken-windows approach to policing.
Police found several jars of marijuana, bagged marijuana, tools for grinding marijuana, a pellet gun, and live ammunition. The 18-year-old and 19-year-old men in the car were charged with drug and weapons charges, as well as operating a vehicle without a license.
Police stopped a 23-year-old woman Friday night, claiming she was blowing stoplights and speeding on Back Street. A search of her red Nissan turned up a .380 caliber handgun and a small amount of marijuana. Because there was a 17-year-old boy in the car, police also cited her with contributing to the delinquency of a minor. She was remanded to the Bureau of Corrections when unable to make $50,000 bail. The boy was charged with firearm possession as well and, after being advised of his rights in front of his parents, was placed into protective custody, police said.
Early Sunday, police patrolling the Paul M. Pearson Garden Housing Community said they found four men dressed in all black, wearing masks, "playing with guns," said VIPD spokesperson Glen Dratte. Officers demanded the men drop their weapons, but instead, they fled. They were immediately caught, Dratte said and found in possession of four handguns and marijuana.
The men, aged 20, 22, and 24, as well as a boy under 18, were charged with drug and firearms offenses. Unable to make $175,000 bail, the adults were remanded to the Bureau of Corrections and the minor to the Juvenile Bureau.
Martinez had promised a crackdown on illegal weapons in the territory after a St. Croix woman was killed in her home by what appeared to be a stray bullet from a passing car. So-called broken-windows policing has law enforcement treating minor incidents seriously in an effort to search suspects and seize illegal guns.
"People are mad as hell right now, and I do not blame them because I am too, but we will remain persistent in our efforts keeping our communities safe. I thank my officers who are there every day for their dedication mitigating this violence in the territory," he said in a written statement.