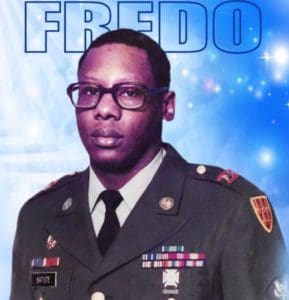 With heavy hearts, the family announces the passing of Sgt. 1st Class Jene Alfredo Batiste, affectionately known as "Fredo," who died in Augusta, Ga., at the age of 53.
He was preceded in death by his step-father, Randolph Smith, and his son, Esmond McCarthy.
Jene is survived by his wife, Anja Batiste; daughters: Trisha and Charlene; five grandchildren; his mother, Donna Robinson Smith; brother, Gerald L. "Suki" Phipps lll; step-brothers: Rudy, Randolph and Clarence "Alvin" Smith; sisters: Denise "Jamilah Petersen, Ronna Smith Wade, Roxanne and Rolinda Smith; sister-in-law, Gerraina Nicole Phipps, brother-in-law Rudy Wade; aunts: Myrna Rhymer, Francine Richardson, Dorothea Norman and Maybelle Christopher; as well as nieces, nephews and cousins too numerous to mention.
A Memorial Service will be held at 10 a.m., Monday, Feb. 1, at Shiloh Seventh-day Adventist Church across from the Tutu Fire Station.  Face masks are required. Festive colors may be worn.