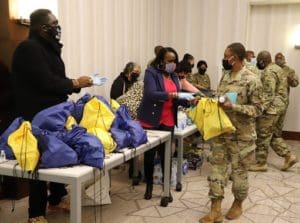 The VIADC Inc., a non-profit organization founded by Virgin Islanders who reside in the metropolitan Washington D.C., region provided over 130 treat bags to the men and women of the Virgin Islands National Guard (VING) on mission in the nation's capital supporting the 59th Presidential Inauguration on Jan. 20, 2021.
Operation A Taste of Home, the brainchild of the VIADC Fundraising Committee, "was designed to give the visiting V.I. troops and fellow Virgin Islanders a reminder of home during their stay in the metropolitan Washington D.C. area," said Abigail Hutchinson, a member of the VIADC Board of Directors and chair of the fundraising committee.  V.I. National Guard troops along with troops from across the country were stationed in the nation's capital to provide security, communications and logistical support during the inauguration.
VIADC Vice President Kenrick Roberts welcomed the troops, thanked them for their service, and presented a certificate of appreciation to U.S. Army Lt. Col. Clayton Sutton, V.I. National Guard 786th Battalion Commander.  Hutchinson presented the treat bags to the troops after adding her own welcome and offered words of encouragement.  The Taste of Home treat bags included a thank-you note, beef and saltfish pates, johnny cake, pick-up saltfish with crackers, assorted tarts, Vienna cake, bottled water and various drinks in a reusable drawstring bag.
Members of VING were both excited to support the Presidential Inauguration and to be welcomed by Virgin Islanders on the mainland.  One of the guardsmen, Sgt. Patrick from St. Croix, said, "The event was great, especially since we're getting some local treats to eat while we are here in the states.  It's also great knowing that the [VI] association is here in the States to offer this and other support."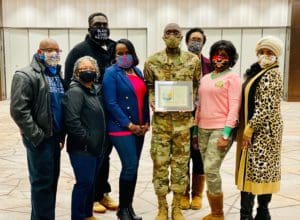 Another guardsman, also from St. Croix, added that, "Ever since I joined the National Guard, I knew I wanted to be a part of something great.  One of my biggest goals besides serving overseas, was to serve as a part of the Presidential Inaugural event. It is my distinguished honor to serve the Virgin Islands National Guard and the newly elected president of the United States in the biggest movement in history. I, SPC Clemrick Bryan, VING Military Police, am proud to say thank-you for those who've supported this movement; and it is truly a life changing experience being here. I am a proud soldier and Virgin Islander. HOAH!"
Over 40 years ago, the VIADC was established to promote fellowship and foster a sense of belonging and loyalty to the Virgin Islands.  VIADC is known throughout Washington D.C., Maryland and Virginia for its cultural activities, including the annual summer fish fry, picnic, and winter ball. The association has held food drives for the homeless and hurricane relief drives for the Virgin Islands and other islands in the Caribbean.