The Virgin Islands Office of Highway Safety and the National Highway Traffic Safety Administration reminds all motorists that May is Motorcycle Safety Awareness Month. When we all Share the Road, with safe riding and driving practices and cooperation from all road users, it helps to reduce the number of fatalities and injuries in the Territory. It is important to remember that motorcycling is not just a sport but it is also a means of transportation for many people.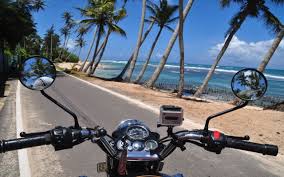 In 2021, there were 30 motorcycle injuries and 1 fatality in the Territory. One of the main contributing factors to motorcyclist fatalities is speeding. Driving while under the influence of alcohol also plays a significant role in motorcycle-involved crash fatalities. Motorcyclists are inherently at more risk than motor vehicles because they lack many of the same safety features as automobiles. So this May and every day, let's remember to Share the Road with the following safety tips in mind:
Drive and ride alcohol and drug-free.
Observe all traffic laws.

Obey the speed limit.

Drive and ride defensively.

Yield to motorcyclists, especially while turning at intersections.

Avoid distractions that place motorcyclists and other road users at risk.
Wear high-visibility personal protective gear and DOT-compliant motorcycle helmets.

Avoid Blind Spots and Use Both Brakes.
For more information on motorcycle safety and other Police Traffic Services, visit www.viohs.com or contact the Law Enforcement Liaison/Police Traffic Services Coordinator Danielle Cranston @ danielle.cranston@vipd.vi.gov  or VIOHS Director, Daphne O' Neal @ daphne.oneal@vipd.vi.gov