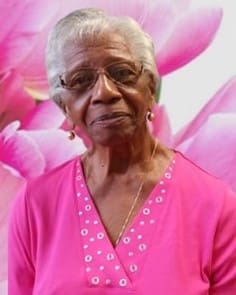 Shirley Krigger-Smith died on June 12 at the age of 88.
She is survived by her:
Daughters
Veronica A Smith-Leonard, Natalie M Knight
Sons
Warren J. Smith, Brennan A Smith, Adonis A Smith
Brothers
Paul Krigger, Ashley Krigger, Keith Krigger
Stepsons
Glenn Smith, Vincent Smith
Sisters-In-Law
Marilyn Krigger, Lucy Krigger, Rita Schulterbrandt-Smith
Grandchildren
Sulema A. Simmonds, Devera A. Leonard-Callwood, Deveron A Leonard, Keisha Smith, Michelle Smith, Marvin Smith, Terrance Smith, Kyle, Kamila, Kissa, Kalieh, Akima, Naeem and Kiannah Smith, Kasima Knight-Hodge, Jeremy and Jordan Knight, Adonis B. Smith and Bryson Smith
Great-Great-Grandchildren
Andria J Weeks, Andre A George, Joshua A Leonard, Joziah C Callwood, De'Jante A Leonard, Kai McDonald, Zane Mc Donald, Kimarley Brathwaite, Kimanni Brathwaite, Kahlissa Ubiles, Kaylie Ubiles, Sunika Adams, Josline Smith, Ahmir Piper, Ahmiya Piper, Kalycia, Kamir, Kahlid ND Kahmil Hodge
Nieces and Nephews Wisteria and Pamela Krigger, Carolyn and Kirkpatrick Hotchkiss, Shulyn, Shirlyn, Keith and Kenneth Krigger, Stacey and Kristen Krigger, Ayanna Henericks, Owen, Aaron, Tonia and Tina Krigger, Rudolph Krigger Jr., Bernice, Judith Rivera and Valerie Thomas, Carol Smith, Cheryl Prince, Desiree Hill, Jacqueline Dowe, Norris, Glenroy, Stanley, Andre, Derek and Michael Smith
Goddaughter
Natasha Wright
Godson
Mark Gottlieb
Special Special Friend
Gerda Gottlieb
The family requests festive colors be worn.
Zoom Link for funeral service: St. Thomas Church of Christ – Zoom ID: 680 980 2189
Funeral will be held at St. Thomas Church of Christ 7C Estate Hoffman, on Friday, June 30 – Viewing at 10 a.m.  Service 11 a.m. – Interment at the Western Cemetery No. 2.
Funeral arrangements are under the care of Dan Hurley Home for Funerals and Cremation Centers of St. Thomas, St. John and St. Croix.
For online condolences or to share a special memory, visit our website at www.hurleydavisfuneralhome.com