St. John showed up in force for the Kenefit at Island Blues on Sunday afternoon, February 11, packing the Coral Bay bar and restaurant from early afternoon until late in the night.
On a two-benefit afternoon Love City residents shared their love making both the Tahiti Open a success (see related story on page 12) as well as a benefit party for the ever-popular bartender Kenny Quinn, which raised more than $10,000 to help him defray medical costs.
While the sale of t-shirts and raffle tickets contributed to the proceeds raised, the biggest money maker was the popular bachelor and bachelorette auction.
A roster of 12 eligible men and women were originally slated for the auction, but soon after the action got under way impromptu bachelors and bachelorettes jumped on the bar, joining the fun and adding to the funds.
Each potential date strutted their stuff atop Island Blues' circular bar which was transformed into a "cat walk" for the evening.
Island Blues owner Emily Hannon couldn't let the night go by without joining the auction and Miss Lucy's co-owner Guy Walsh couldn't fight the impulse to join in either.
While many dates went for hundreds of dollars, it was Island Blues' own bartender and waitress Rachel Sica who raised the most amount of money, pulling in $600.
"I did it for Kenny," said Sica. "I wanted to raise money to help him and it was tons of fun. Having that much fun for a good cause is always a good thing."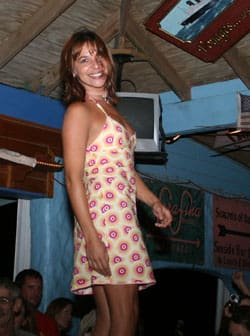 Pastory Gardens manager Walter Rankin was the highest-grossing male of the evening, bringing in $500 for Quinn.
"It was a wonderful event," said Hannon. "Everyone had so much fun and the auction was hysterical. It was a great fund raiser."
"It was more than I could have imagined," Hannon continued. "We're very happy about it and very happy that we could help Kenny out in any way."