St. John's public library is expected to reopen Monday, for the first time in six months. The Director of Libraries and Archives for the Department of Planning and Natural Resources spent time on Friday overseeing preparations at the Elaine Sprauve Library.
A popular spot for daytime browsers, after-school students, summer programs and early learning reading groups, the library was closed for several weeks in 2017.
The Charles W. Turnbull Library on St. Thomas and the Florence Williams Library on St. Croix reopened several weeks after the September storms.
Libraries and Archives Director Arlene Pinney-Benjamin said there was some damage inflicted by Hurricanes Irma and Maria in September. The storm damage would not be repaired in time for the Monday open, she said.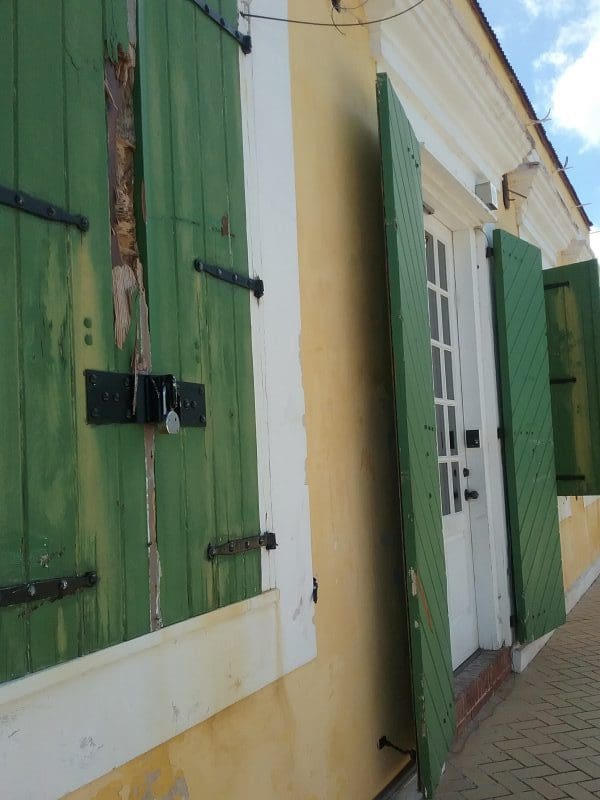 "We had some structural damage. Some of the shutters are broken. Some of the light fixtures we upgraded have to be fixed," Benjamin said.
Air conditioning technicians from Dr. Cool were on site Friday to address other problems.
The library's interior on the top floor and shelves, however, appeared dry. There was no scent of mold in the air.
Books filled the shelves. Others sat in boxes on the floor and in bins on the reading tables.
When Sprauve Library reopens Monday, it will operate on a five-day schedule. An associate librarian currently in charge of the Charles Turnbull Library and Archives on St. Thomas will oversee operations on St. John as well, Benjamin said.
Other personnel will assist in the daily operation. "We're going to have a permanent employee right here," the director said.
Meanwhile, the associate librarian is completing studies to obtain credentials as a full librarian. Sprauve Library has been struggling to fill a similar position since 2014 when Carol McGuinness retired after 23 years.
Ashley Till took over the position in May 2015 but left in August 2016. After that, the St. John library opened on days when personnel was available to commute from St. Thomas.
Officials closed the library for repairs in Jan. 2017 and reopened in June. During that time, Benjamin said, shutters were repaired and security lighting installed.
However the St. John Bookmobile, which has been parked near Turnbull Library for several months will stay there for now. Benjamin said Bookmobiles for St. Croix, St. Thomas and St. John all sustained hurricane damage.
"That is still being worked on. All three bookmobiles sustained damage from the storm," she said.
The public can access books and magazines and borrowing books in general circulation as of Monday. Children's reading programs and other services are being planned, Benjamin says, for libraries territory-wide.
Shared content for the St. John Source and St. John Tradewinds.