The 46th Annual Around St. John race, sponsored by Budget Marine and the St. John Yacht Club, was held on Sunday, March 11 starting at 10 am from Two Brothers.
The competitive nature of the fleet was evident at the tightly contested start as boats circumnavigated St. John clockwise. The course, over 21 miles long, took the eight participating vessels through the narrows and up the Sir Francis Drake Channel between Tortola and St. John.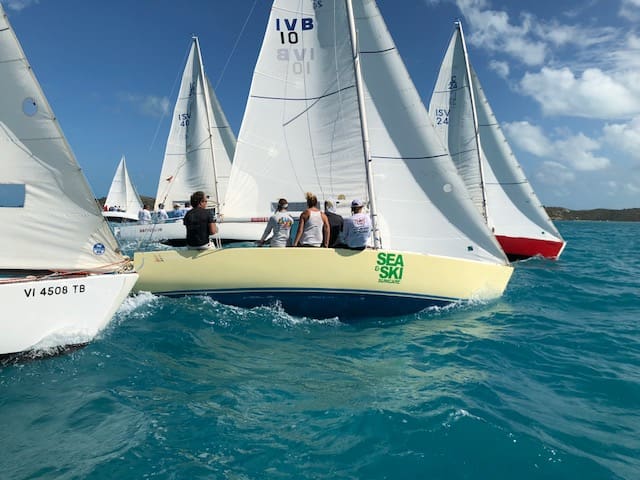 Conditions were ideal with winds at 18 to 20 knots and 4 to 6 feet waves on the South Shore making for a lively downwind spinnaker run.
A near mishap occurred when Captain Mike Feierabend of Bravissimo reported that one of his foredeck crew fell overboard in rough seas off the East End during a spinnaker set. Quick action by the remaining crew retrieved the foredeck person back on board almost immediately. Bravissimo continued on the course swiftly.
Sunday's race fleet included six IC-24s, one J-24 and a Hobie 16 Beach Cat. The Race Committee managed the race from Gypsea Girl, Sharpe and Margie Kemp's 31-foot Grady-White Bimini.
The first three boats finished within a minute and a half of each other.
Red Dog, skippered by Mike Williams from St. Thomas, with an elapsed time of 4 hours and 6 minutes won the Cese De Graaff Memorial Trophy for the fastest elapsed time for a mono hull.
In second place was Huron Girl, skippered by Mike Finley from St. Thomas. Bravissimo, skippered by Mike Feierabend, came in third place.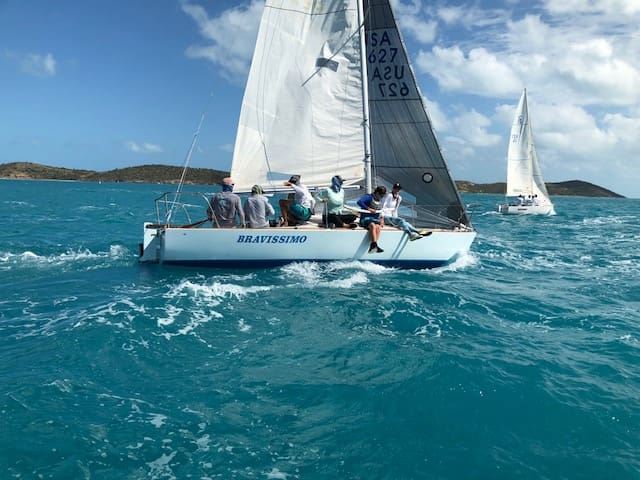 White Sails, a Hobie 16 Beach Cat, skippered by Joyce Mackenzie and sail trimmer Dane Tarr, was first on elapsed time in the multi hull class. She was the first boat to finish with the time 3 hours and 56 minutes.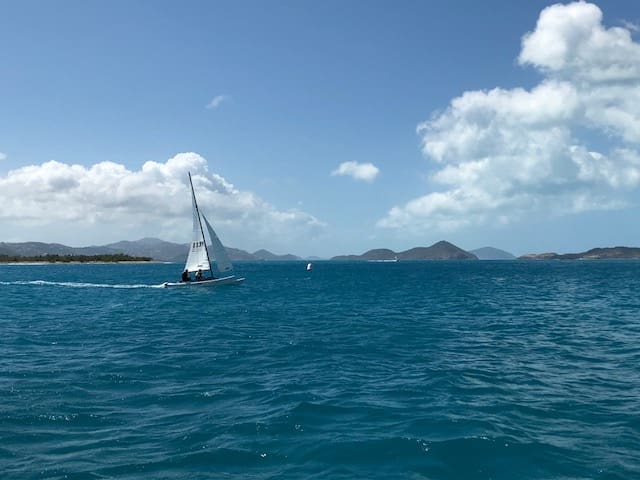 Spinnaker Class Results
1st place was Red Dog, Skipper Mike Williams, from St. Thomas.
2nd place was Huron Girl, Skipper Mike Finley, from St. Thomas.
3rd place was Bravissimo, Skipper Mike Feierabend, from St. John.
4th place was Boat Drinks, Skipper JP Montegut, from St. Thomas.
5th  place, Bill T, Skipper Forrest Hardy, from St. Thomas.
6th place, Desperado, Skipper Chuck Pessler, from St. Thomas.
7th place, One Love, Skipper Bill McConnell, from St. Thomas.
The post-race party and awards ceremony took place at the Banana Deck in Cruz Bay. Budget Marine and SJYC awarded the first three winners in each class with gift certificates.
The next St. John Yacht Club race, the Commodore's Cup, will take place in May.