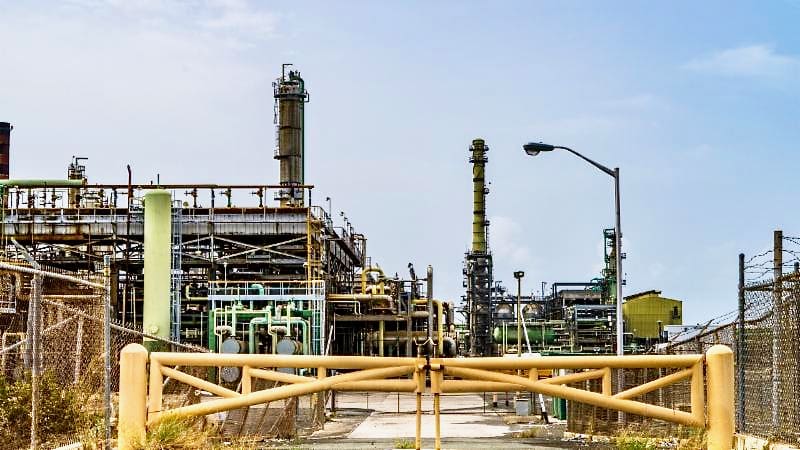 Experts in petroleum coke handling are on the ground at Port Hamilton Refining and Transportation on St. Croix after a smoldering pile of the material was discovered early Thursday, the company announced Sunday.
Around 4:20 a.m. on Thursday, an automatic alarm system was activated inside one of the  coke storage domes at the facility, formerly known as the Limetree Bay Refinery, the company said. A pile of petroleum coke was slowly smoldering, it said.
Petroleum coke is a solid fuel that resembles charcoal, Port Hamilton said.
"Employees immediately responded and set up fire hose water spray nozzles inside the coke dome to cool the material. The water is being sprayed 24 hours a day and experts in petroleum coke handling were flown in on Friday to help with the logistics of completely suppressing the smoldering pile of petroleum coke safely and expeditiously," according to the release.
This petroleum coke pile in the dome was left over from the brief operation of the Coker unit in 2021 under Limetree Bay Refining's ownership, according to the release. Port Hamilton's fence-line air monitoring network has not detected any impacts but will continue to monitor day and night, it said.
"The safety of the workers and the public remains Port Hamilton's first priority," the release stated.
Port Hamilton Refining and Transportation acquired the refinery at a bankruptcy auction in December. Former owner Limetree Bay Refining shut down the facility in June 2021 after multiple major mishaps resulted in significant air pollutants and oil releases, and in July filed for Chapter 11 bankruptcy.
The move came the same day that the U.S. Justice Department filed a complaint in V.I. District Court on behalf of the U.S. Environmental Protection Agency alleging that the St. Croix refinery presented "an imminent and substantial danger to public health and the environment."