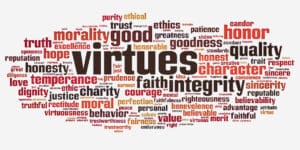 Virtue of the Week focuses on building peaceful and caring communities through understanding and fostering the practice of virtues. The Source supports the Virtues Project and will publish one virtue developed by the project each week.
Kindness
Kindness is caring that springs from compassion. We have genuine concern for the welfare of others. We are warm, friendly and ready to help. We listen for the needs beneath the words. We give tender attention in simple ways that bring others happiness. Kindness is the daily bread of love. When we feel angry, we resist the temptation to be cruel. We balance honesty with tact. We are good stewards of the earth and all living things. We remember to be kind to ourselves. When we fill our own cup, our kindness naturally overflows to others.
Quote: "Be the living expression of God's kindness; kindness in your face, kindness in your eyes, kindness in your smile…" – Mother Teresa
The Practice of Kindness
I have empathy for others.
I notice what people need.
I love to be helpful.
I am thoughtful in little ways.
I practice good habits that help the earth.
I am a good caregiver to myself.
I am thankful for the gift of kindness.  It awakens my heart.
How is kindness extended in your strongest relationships?
Are you holding any kindness in exile? What would it mean to extend it?
What needs your tender attention? How will you attend to it?
How can listening to the needs beneath the words strengthen our social justice work?
Virtues Matter was started by a passionate wife-husband team of social entrepreneurs seeking to positively uplift as many lives as possible. We aim to inspire and empower, to build capacity, strengthen relationships, and help everyone lead lives of passion and purpose.
Virtues Matter believes in a world where people are committed to kindness and respect, strive to be their best, and live with hope, courage, and in unity. We built the Virtues Cards mobile app, an interactive personal and team development tool, to help people identify and develop key virtues skills. We also offer dynamic workshops, online training, and customized programs to help people cultivate these positive qualities of character. To learn more, visit www.virtuesmatter.org .