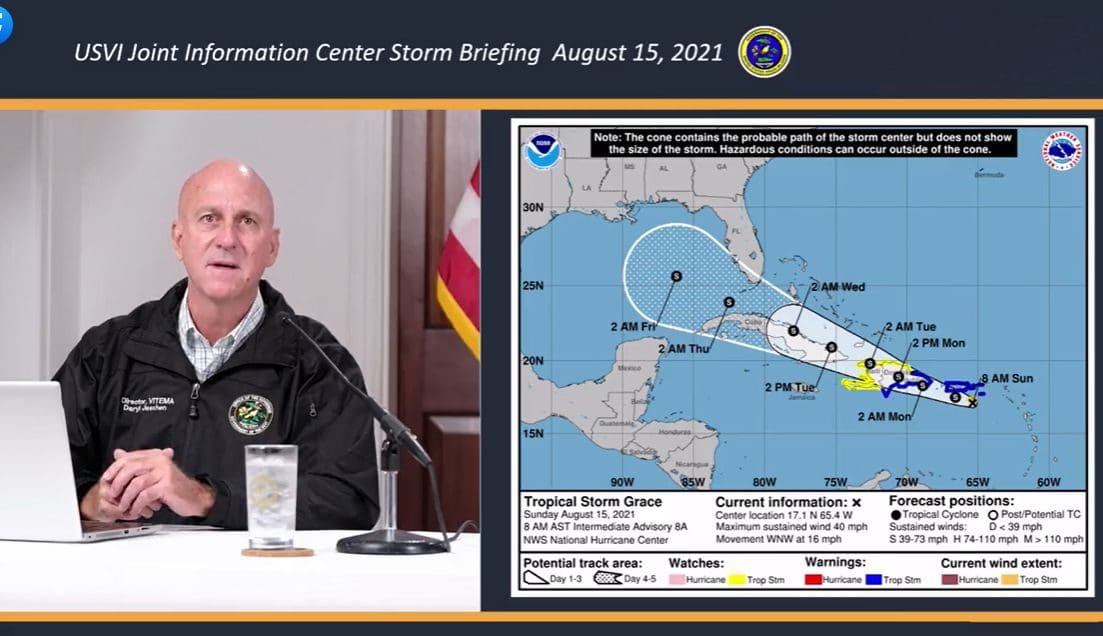 With a shift to the southwest Saturday night, the territory was spared the brunt of Tropical Storm Grace which is located 55 miles south-southeast of St. Croix as of 9 a.m. Sunday morning and continuing to move on a west-northwest track at 16 miles per hour.
Meanwhile, the likelihood of tropical storm-force winds impacting St. Croix Sunday decreased from 64 to 12 percent, with no tropical-storm-force winds forecast for St. Thomas, though three-to-six inches of rain is still expected for both throughout the day as the outer bands of the storm are felt. Otherwise, Grace has become disorganized, with sustained winds reduced to 40 miles per hour, which is expected to continue over the next few days.
Tropical storm and flash flood warnings are still in effect and during a virtual update Saturday, V.I. Territorial Emergency Management Agency Director Daryl Jaschen said the territory's seaports are still closed with no ferry service, though VITEMA will continue to work closely with the U.S. Coast Guard to monitor the weather and update the public. The territory's airports are open, with only United Airlines canceling flights Sunday, Jaschen said.
Jaschen and Gov. Albert Bryan, Jr. continued to encourage residents to stay indoors throughout the day Sunday, not remove or touch any downed powerlines and avoid flooded areas. No power outages as a result of the weather had so far been reported as of the territory's 8:30 a.m. update, nor any road hazards such as downed trees, the governor said. However, ongoing power outages have been reported in the St. Thomas and St. John District since Saturday evening.