In the midst of a festive fishing tournament on the shores of Hull Bay, a team of volunteers worked quietly in search of the cause of a well-known ailment. That ailment, ciguatera, is known to many Virgin Islanders who love to dig into the catch of the day.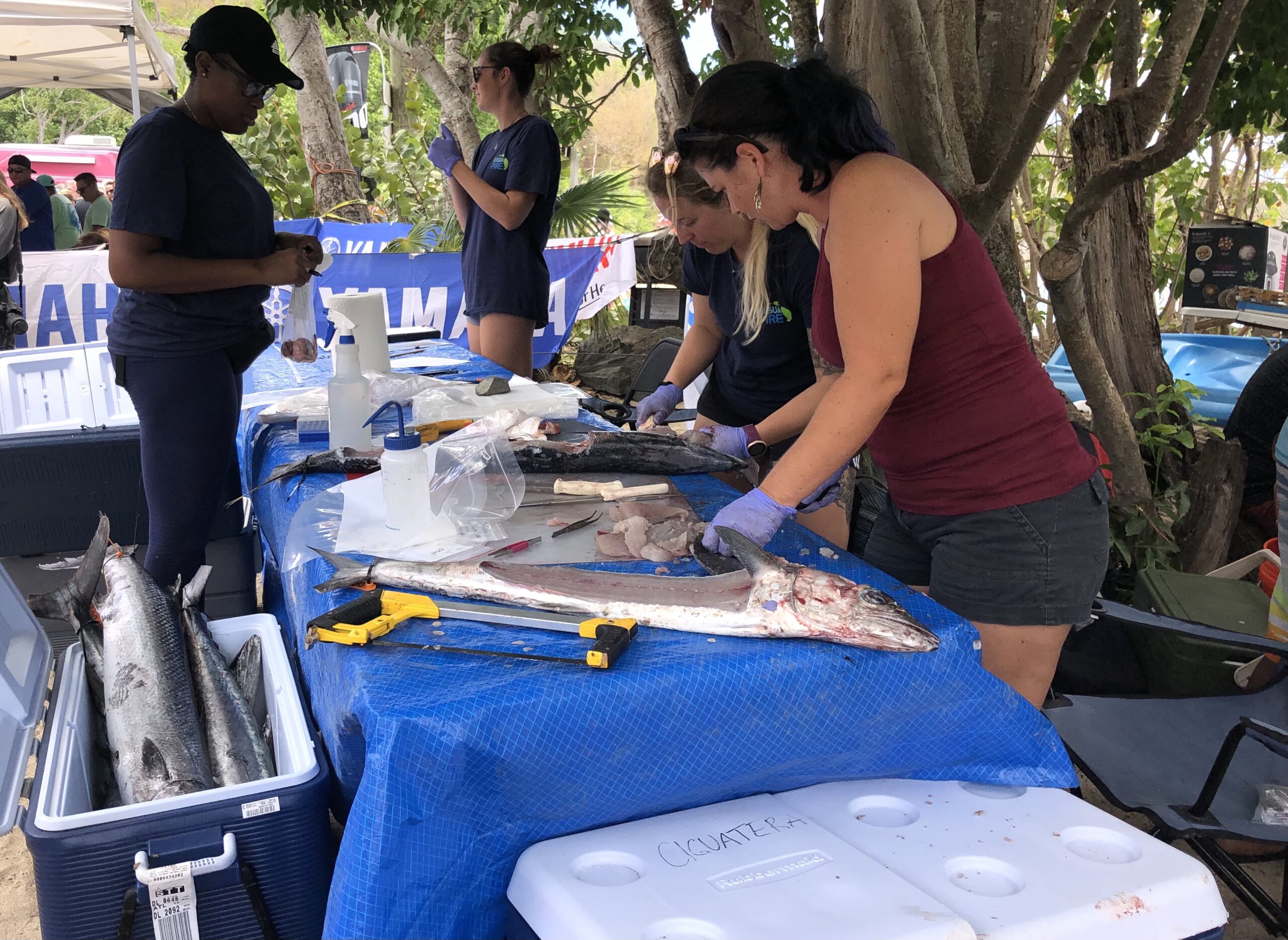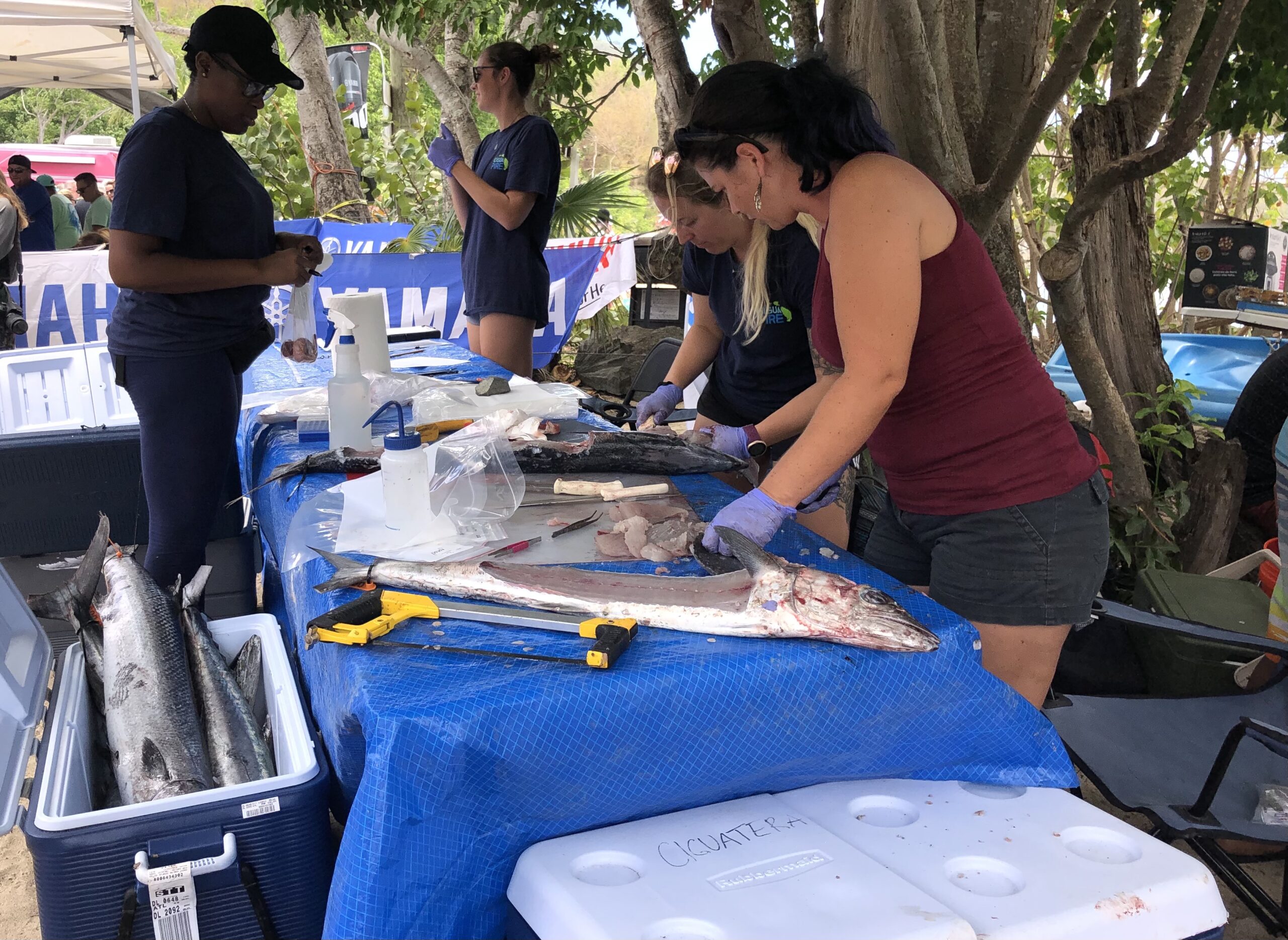 A visiting researcher, working with local volunteers, said they set up a sampling station for fish donated by anglers competing in the recent Bastille Day Kingfish Tournament. Sunday, July 10, was the third St. Thomas sport fish survey for University of South Alabama graduate student Jesse Gwinn. She said the work is part of a decades-long study being carried out in collaboration with the University of the Virgin Islands.
Ciguatera — also called fish poisoning — is a debilitating but temporary ailment contracted by those who eat contaminated fish. Gwinn says the Northside fishing tournament gives researchers a chance to study barracudas, kingfish and Spanish mackerel swimming in waters considered a ciguatera hot spot.
"The idea is that the fishermen will check in their fish, posting them up on the nail board and take pictures with their fish, and we'll ask them if they'll donate their fish," Gwinn said. "If they don't want them, we gladly take them and sample them for a bunch of muscle and gonads and liver, so we can use them to extract the toxins and study them."
Donated fish were then laid over a worktable where volunteers cut away samples of muscle, gills, and sex organs. Samples are tagged, bagged, and logged onto charts before being stored in ice chests. Extensive sampling allows investigators to find out if more than one type of contaminated algae, believed to be the source, is found throughout the sample.
UVI's principal investigator in the study is coral reef researcher Tyler Smith. He said efforts to track ciguatoxins have been going on since 2007. Collaboration with Alison Robertson, Smith's counterpart at the University of South Alabama, came later on.
"We've been working since 2007, with the initial work being done with Woods Hole (Oceanographic Institute in Massachusetts). From there, it's really blossomed," Smith said. "The study we have is pretty sprawling. We're really interested in the whole environment, looking at which algae produce ciguatoxin. Just finding these microalgae cells and identifying which species is not easy."
Scientists believe that human exposure to ciguatoxin runs along a food chain; fish eat toxic algae, and humans, in turn, eat the fish. One of the reasons St. Thomas could be considered a ciguatera hot spot appeared during a UVI-UAS sampling session in 2019.
"At least from the 2019 year, at least 98 percent of the fish that we tested were toxic. I'm not sure of the exact levels … I'm not sure how many of them were not safe to eat, but we were able to detect ciguatoxins in 98 percent of them," Gwinn said.
Smith added an appreciation for the efforts of local fishermen to keep the kinds of fish that have the greatest risk of fish poisoning away from consumers. "It helps keep our program in a good light with the fisherman community," he said.
And while it is not the primary focus, Gwinn said researchers are also examining the effects of climate change on the spread of ciguatera. Toxic algae has been detected on oil rigs in the Gulf of Mexico, she said.
Smith said a northern migration of warmer waters where ciguatoxin can flourish is not the only reason why cases of fish poisoning are showing up in places they were never seen before. "The human side is that people are moving, and when they move, they take the foods they are accustomed to eating along with them. And so some of these ciguatoxins are showing up in places they've never been before, among people who know nothing about them," Smith said.