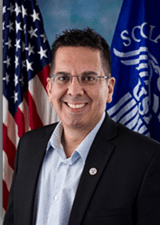 By law, the Social Security Administration (SSA) is required to periodically conduct 'Continuing Disability Reviews' for all individuals who receive disability benefits from this agency. SSA will notify every beneficiary by mail anytime that it should initiate a review. This process requires that beneficiaries complete a Continuing Disability Review packet, which SSA will mail to beneficiaries to help SSA update information about the beneficiary's medical conditions and recent treatments.
Additionally, SSA offers an online option for beneficiaries to complete the Disability Update Report form and provide any supporting documents about their medical treatment or work activities.
The Social Security Administration designed this form with convenience in mind — and to save you time.  People can access the online form at www.ssa.gov/ssa455-online-form.  (Use either Microsoft Edge or Google Chrome for the best online experience.)
When the Continuing Disability Review form is completed, add your Social Security number, current address and phone number, as well as a valid email address to complete it.  Also, individuals must have received a request for an updated disability report in the mail.
Once individuals click on "Click to Sign," they will receive an email from echosign.com, which will ask for confirmation of one's digital signature.  Check your junk folder if you don't receive it within a few minutes.  If the signature isn't complete, the form won't be processed.
Due to the COVID-19 pandemic, Social Security offices could not receive visitors except for previously arranged appointments on special limited critical situations. However, SSA continues providing its services by phone and internet. If there are any questions on Social Security benefits and services, access www.socialsecurity.gov.
People could also access the automated services at 1-800-772-1213, or call a local Social Security office between 9 a.m. and 4 p.m., Monday through Frida. To locate the telephone number of a local field office, input a residential zip code at www.ssa.gov/locator/ .