Not a lot of songwriters get a chance to debut their compositions to an eight-time winner of Entertainer of the Year like Kenny Chesney, but two young girls representing the St. John School of the Arts did just that.
Elena Magnie, age 8, Milanya Provost, age 7, were fortunate enough to have Chesney kneel down to speak to them face-to-face and listen to a song they had written the night before. When they were done singing "Carry On," Chesney was impressed
"I'm really proud of you," he said. "I haven't written a song in three months," he said, smiling.
It's not surprising Chesney hasn't written a song in a while. Since April he's been on the road on his 19-stadium plus amphitheaters 2018 Trip Around the Sun Tour.
Before starting the tour, Chesney visited St. John, where he had a home prior to Sept. 6. That's when Hurricane Irma tore it apart. Following the storm, Chesney went into action, establishing the Love for Love City Fund to help victims of the storm. His crew helped clear storm-damaged properties, brought in critical medical supplies, flew dozens of people off the island when the airport was closed to commercial traffic, and airlifted 1,200 pets to the States some of whom have been reunited with their owners and some of whom are awaiting adoption. And he did it all very, very quietly. (Editor's Note: This paragraph has been changed to reflect the adoption status of the pets airlifted from St. John to the States.)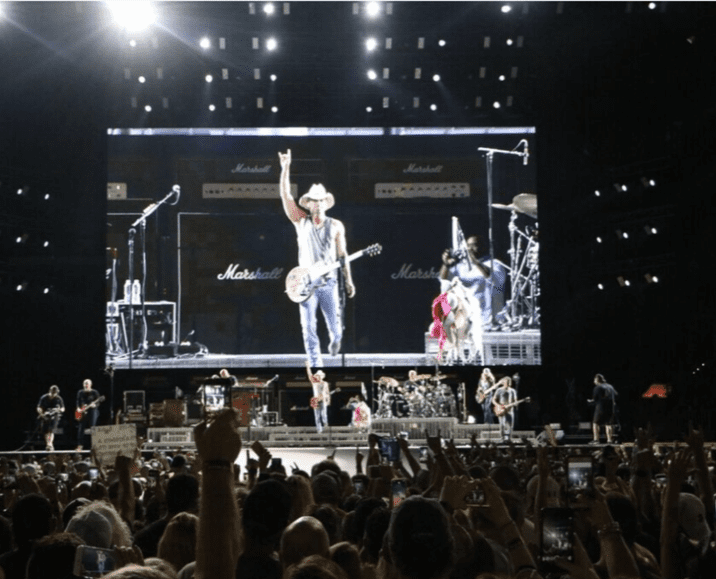 One reason for Chesney's visit in March was to personally deliver musical instruments to the St. John School of the Arts.
"Chesney's guys from Love for Love City had already brought several truckloads of keyboards, guitars and sound equipment to the school to replace instruments damaged by the storm," said Kim Wild, executive director of the SJSA. "Then I got a call from Jill Trunnell, his assistant. She said, 'Kenny wants to visit the school, but he wants it to be a surprise.'"
Keeping a secret on a small island is not easy, but Wild went about planning. Without telling her faculty why, she asked piano instructor Lauren Magnie to teach some students the chords to a Chesney song, and got choir director Kristen Carmichael-Bowers to help the children learn the lyrics. When Chesney walked in, Magnie said, "Let's show them what we're learning," and 35 kids broke into song.
"Kenny talked with the kids and played for them," said Wild, "and then he did the big reveal and showed them a new batch of instruments. Everybody went nuts." After the kids left, the faculty stayed on for what one member called "Kumbaya with Kenny."
"Miss Ingrid (teacher Ingrid Smith) sang his song in her unique and soulful voice. We told our hurricane stories. We cried, and we laughed. It was a heartfelt gathering," said Wild. "When we were talking, Kenny said, 'OK, guys. I want you all to come up and see my show. I'll fly you up, house you and feed you.'"
True to his word, Chesney flew up a group of 26 from the St. John School of the Arts to attend his concert on June 9 at Philadelphia's Lincoln Financial Field, home of the Philadelphia Eagles, the 2018 Super Bowl winners.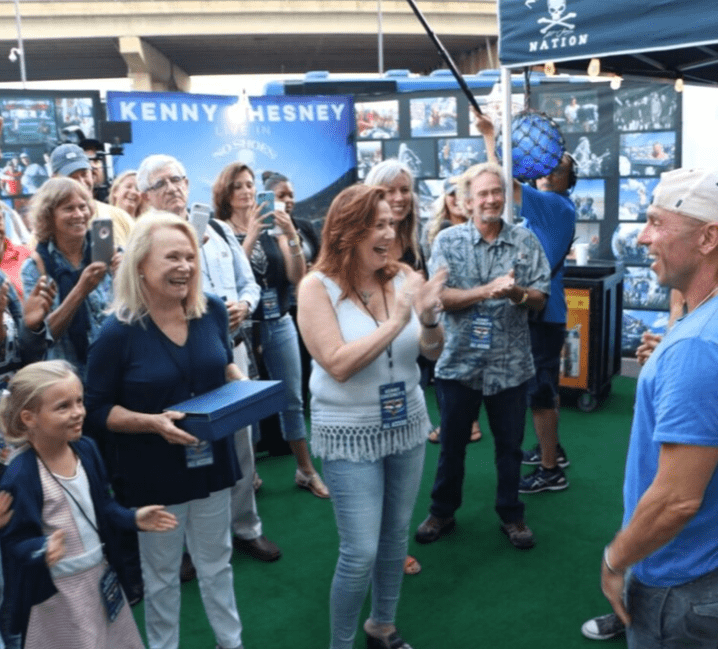 Before he went onstage for his two-hour set, Chesney spent nearly an hour chatting with the students and faculty, and then it was his turn to be surprised. Kim Wild presented him with the Sis Frank Hero Award, an annual award given out by the school in memory of its founder.
"This is so beautiful and so unexpected," said Chesney. "I'm so excited you are here. Jill and I have been talking about this forever. The silver lining is how much [the storm] brought so many people together. It's a musical family, it's a beautiful family."
It was then that Elena Magnie, age 8, who had taken a class in songwriting, and Milanya Provost, age 7, offered to sing "Carry On" for him. Chesney encouraged them to sing all the verses.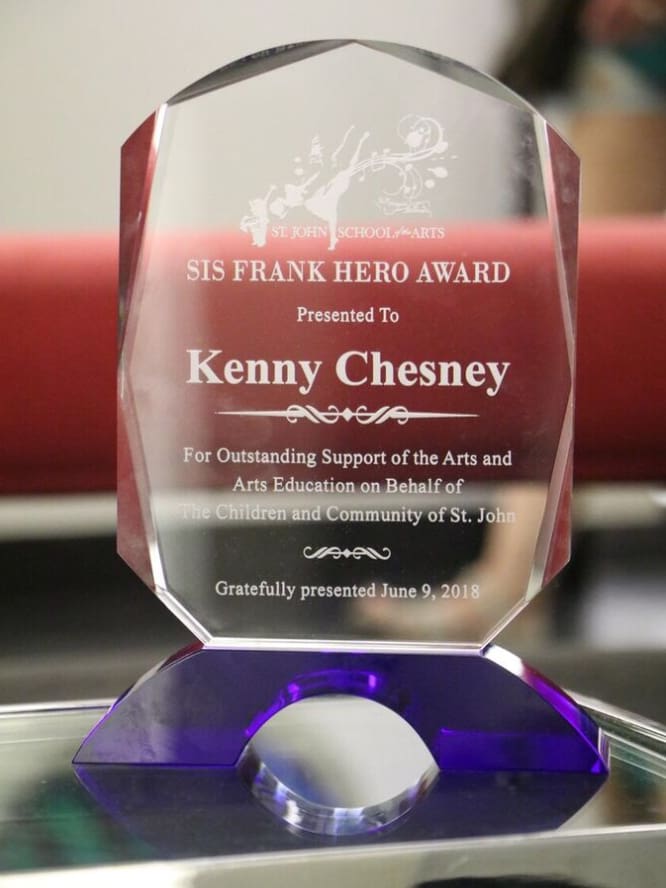 Elena later described the experience as "breathtaking."
Trunnell then told the group to be sure to watch the video at the concert that went with the song, "Everything's Gonna be Alright" co-written with David Lee Murphy. The video featured photos of destruction and recovery on St. John and on neighboring islands and included shots of the March gathering at the St. John School of the Arts.
"Meeting Kenny Chesney was amazing," said music teacher Ingrid Smith. "He is such a humble person and approachable. His message of healing through music is something I personally agree with and embody in my classroom."
The trip was a gift to the hardworking faculty of SJSA.
"Going to see his concert was so much fun," said movement instructor Jude Woodcock. "We were all feeling special with our Kenny Chesney 'all access' pass. It was four days of having fun and not thinking about hurricane season being here anymore."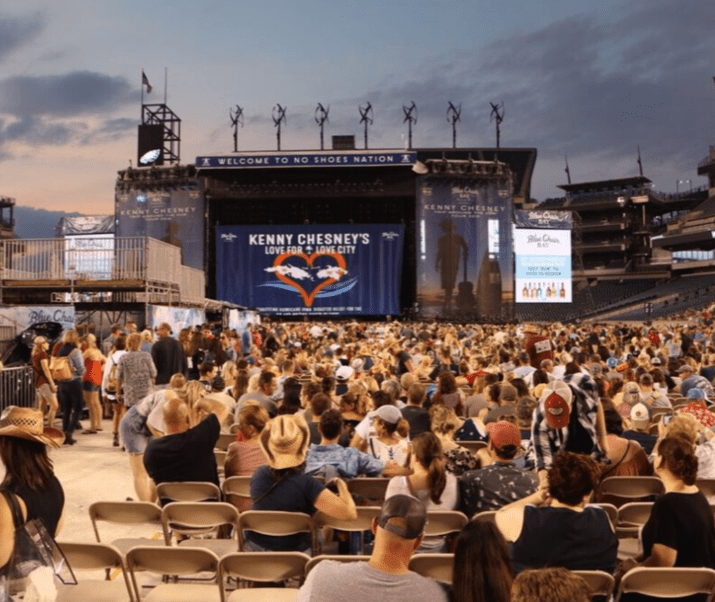 Guitar teacher Haile Israel was taken by Chesney's genuine personality.
"I've traveled with professional musicians, and his humility stands out. He's so down to earth. He made everyone feel just as important as we thought he was."
The multiracial St. John group stood out for their diversity among the nearly 60,000 fans who attended the show that night.
"Our group included young and old, all different colors and cultures," said SJSA board member Glenda Werbel.
The concert brought rave reviews from the St. John entourage.
"When we walked into the stadium, the immensity, the sea of people took my breath away," said Wild.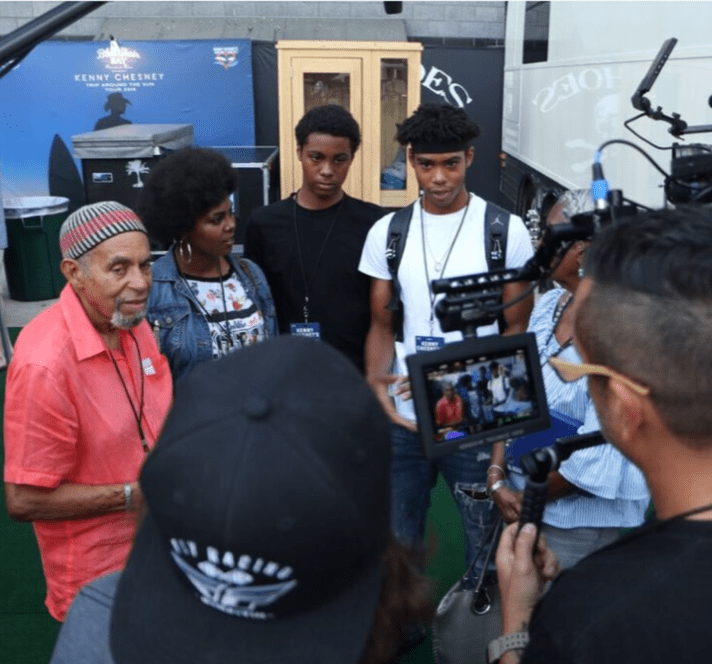 "One song immediately blended into the next, almost without a pause for Kenny to take enough breath to recoup what energy he had just expended," said Eddie Bruce, who teaches music at SJSA. "[There were] two lead guitars to alternate introductions, and a drummer who cued up every song with distinct rhythm patterns, so that, if you knew Kenny's repertoire, you knew which song was coming next."
After being back on St. John for a week, Lauren Magnie said, "It feels like a dream looking back on that weekend getaway to the concert in Philly. St John is so lucky to have someone like Kenny Chesney in our corner. He has helped so many already, and his efforts just continue by donating proceeds from his new album to hurricane relief."
Chesney has pledged a portion of the proceeds from his 18th studio album, "Song for the Saints," to go to his charity, Love for Love City. The title track is already on YouTube, and the album will be released on July 27. Five of the songs which he wrote or co-wrote after Hurricane Irma were inspired by the recovery effort.
"This is not a literal record," Chesney said in a press release. "But it is an album about the refuges we all have, how temporary life is and the way we navigate to better places, dig in and face the destruction."
Art teacher Angela Warren added, "What Kenny Chesney has done for St. John and the School of the Arts is a perfect example of exactly how powerful music and the arts are. We forever need the arts in our lives to heal and live life to the fullest. He pours his heart into the community and we felt that throughout the entire trip."
"The arts have the power to start the healing process for our students," agreed Jeune Provost, SJSA's director of curriculum and instruction. "It has given our students an outlet to express themselves and grow in the midst of chaos and uncertainty. I have seen my students blossom and bloom. It has been a very transformative year, and I am thankful for donations by all our donors like Kenny Chesney, and [also for] our faculty and staff at SJSA."
Shared content for Virgin Islands Source and St. John Tradewinds.