Nearly 100 of the island's young youth descended on the V.I. National Park ball field on Saturday, May 26, to celebrate the second annual Javon Jade Alfred Memorial Fun Day.
The kids spent the afternoon bouncing in the two moonwalks featured at the event, competing in sack races and playing games such as dodgeball.
The second annual fun day hosted by the Alfred family honored their son, Javon "JJ" Alfred, who was tragically killed in December 2004 when he was struck by a delivery truck as he crossed the intersection of Pond Road and South Shore Road on his way home from a school Christmas party.
"JJ" was just seven years old.
"This is a day of fun to remember Javon," said the boy's mother, Deverell Alfred, who added she was happy with the turnout.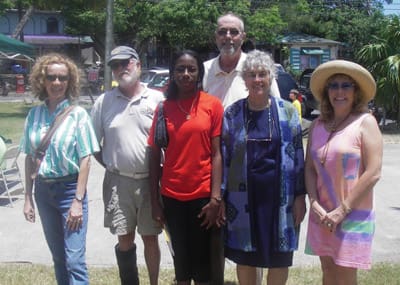 The St. John Rotary announced the winner of its 2007-2008 Javon Jade Alfred Scholarship at the event.
"This year's applicants for the Javon Jade Alfred Scholarship, to be awarded by the Rotary Club of St. John were all outstanding," said incoming Rotary President Joan Bermingham. "It was a challenge for the scholarship committee to select a winner from this talented group of St. John graduating seniors."
The scholarship was awarded to Claudia Verdant, a senior at the Ivanna Eudora Kean High School, who has been accepted to the School of Engineering, Science and Technology at the Virginia State University, where she will pursue a degree in psychology.
Verdant plans to enlist in the Army's medical ops as a second lieutenant, where she will complete her graduate studies in forensic technology, explained Bermingham.
Verdant thanked those who supported her.
"Thank you to the Alfred family, the Rotary Club, and everyone who supported me on my way to achieving my goals," said Verdant.