All photos courtesy of Yelena Rogers Photography.
CRUZ BAY — Students from St. John's public, private and parochial schools enjoyed an Earth Day celebration at an annual event hosted by Friends of the Virgin Islands National Park. The day began with a parade and ended with lessons about alternative energy the environment.
Young marchers from the Julius E. Sprauve School, Gifft Hill School, Head Start pre-school and St. John Christian Academy revved up for the day with a winding Litter Stomp through Cruz Bay Quarter, complete with balloons and a rolling deejay. A parent volunteer donned the mascot Litter Critter outfit and led the way.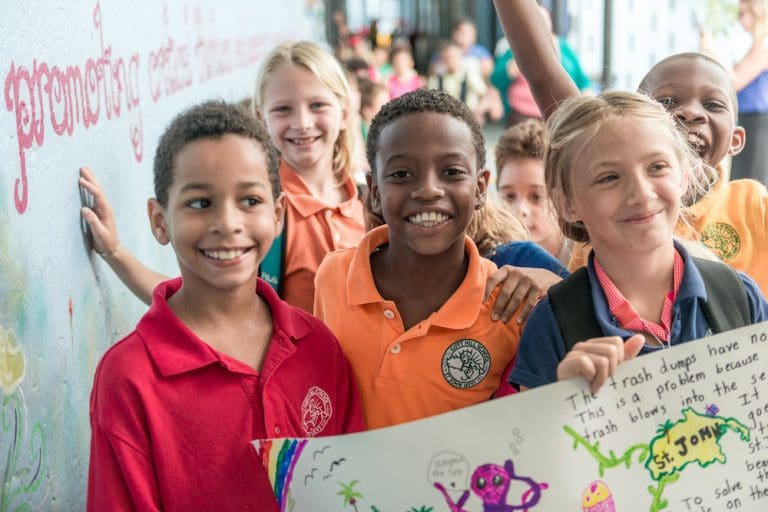 Upon arrival at the National Park Ball Field, a ring of canopied display tables greeted them. Representatives from the the Waste Management Authority, the Virgin Islands National Park, Island Green Living Association and the University of the Virgin Islands offered hands on lessons to the curious.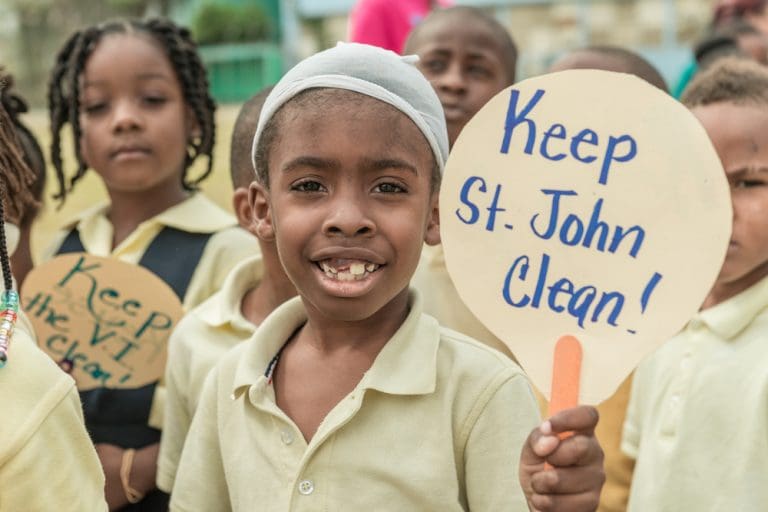 Aside from a morning to run around the field, turn cartwheels and skip along, the annual fair acts as an informal science fair and an outdoor interactive classroom. Including an art lesson as students from the three schools displayed a sea turtle they designed and colored in as a team.
A research scientist put scuba fins on the hands and feet of one student while his friends stood to the side and watched.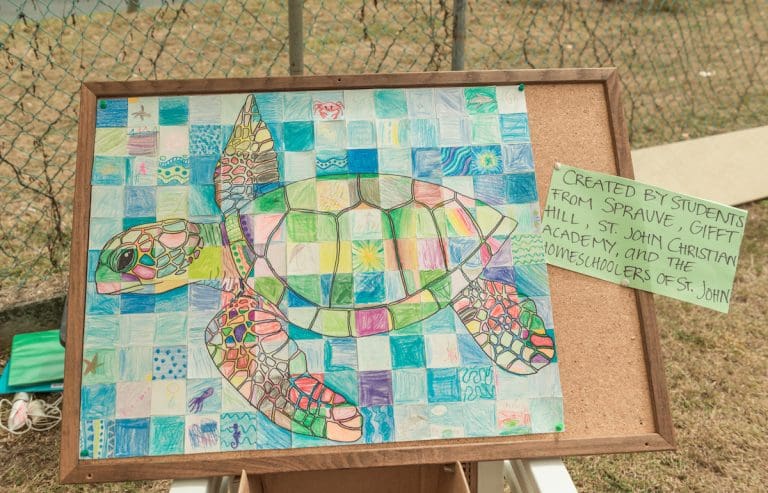 A turtle anatomy class was underway. Then the demonstrator hung a green plastic shell over his shoulder with straps.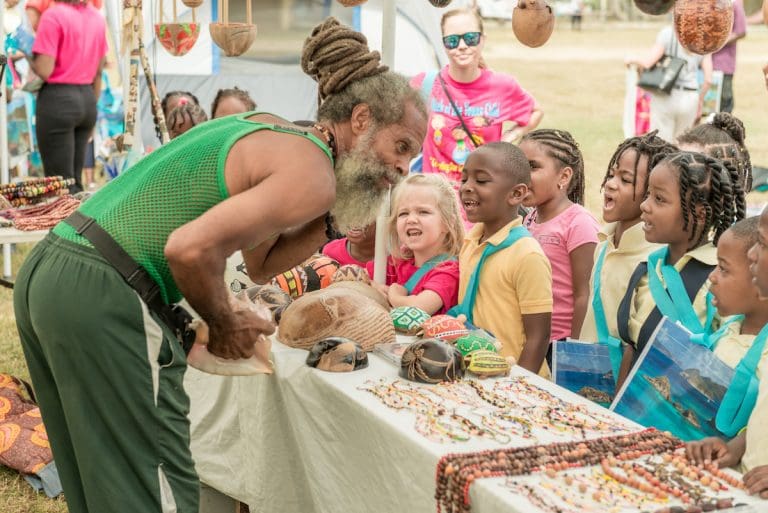 Culture bearer Delroy Anthony led a group of pre-schoolers through the names of local fruits and showed them how they're used. Anthony held up a locust bean pod. "This is a locust bean. It's called a stinkin' toe. Say stiinkin' toe," he said.
The children gleefully chimed in.
Volunteers from the Friends group handed out recyclable shopping bags to every one who came. Shena Esannasson from Waste Management said her agency handed out hundreds of reusable tote bags at the Marketplace in early April. On Earth Day she brought pens and knick knacks.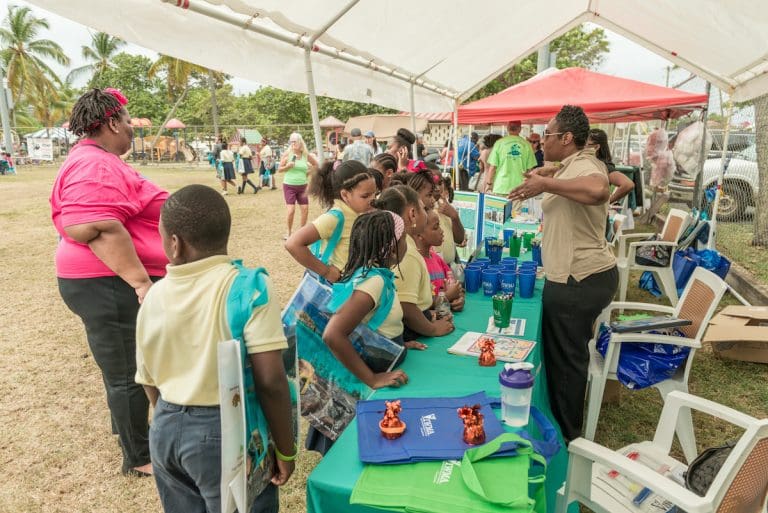 Waste Management is one of the groups discouraging the use of single use plastic grocery bags. As of April 1, grocery stores and retail outlets were to eliminate non-compostable bags from their inventories.
Seated at the next table — a table made of solar panels — a demonstrator used small rocks to create a two lane racetrack for two small solar race cars.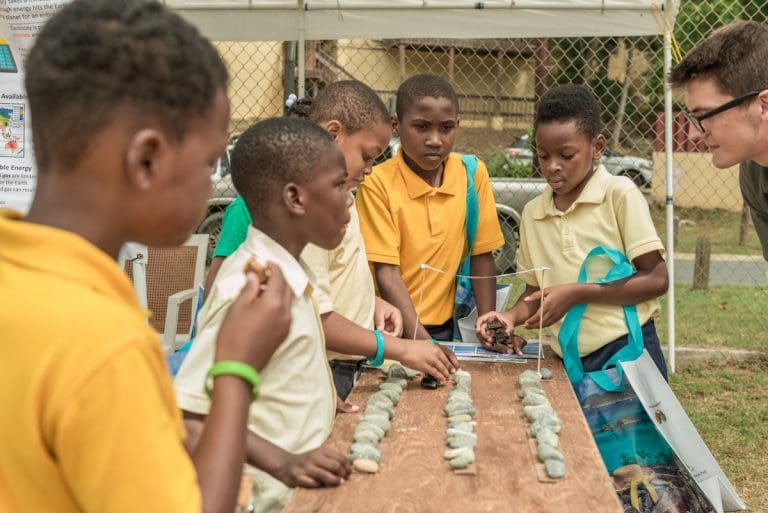 Raquel Escarsega from Caribbean Solar also set up two balsa wood model houses. Both had wallet sized solar panels on the roof. Inside the tiny homes, two ceiling fans. One was merrily spinning along, the other one, not so.
Escarsega explained the house with the spinning fan had a double-A rechargeable battery taped to the wall. "It picks up the slack, the battery does. And then, where there's more sun it charges the battery," she said.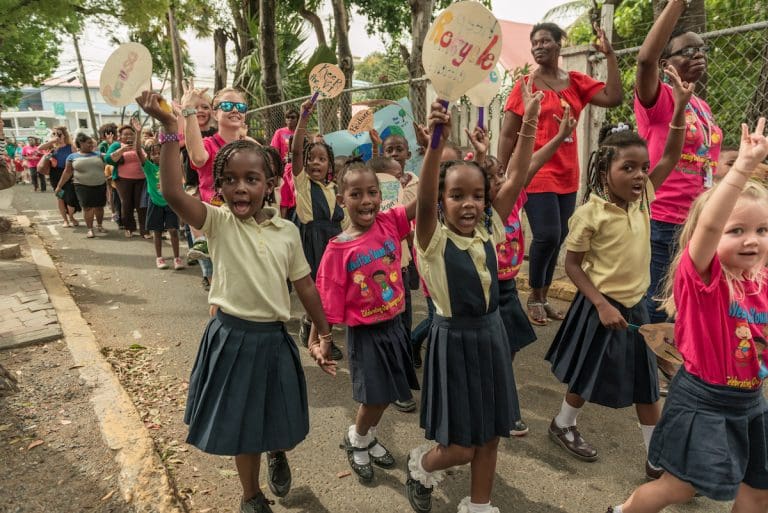 Organizers estimate 300 visitors joined the Earth Day event on April 18.
To view more photos from the 2017 Earth Day fair, visit Yelena Roger's Photography website.