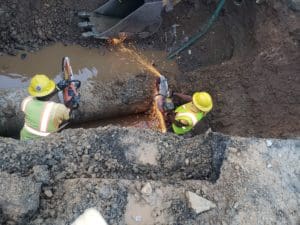 Water and Power Authority crews will make repairs to a leaking water main in the Subbase area of St. Thomas on Friday night, requiring a temporary water service stoppage, according to WAPA. The line burst Wednesday, causing a major service interruption in the Charlotte Amalie area that closed multiple government agencies for the day.
Repairs were reportedly completed early Thursday morning and a second break occurred when the line was re-pressurized. A temporary repair was made to facilitate restoration of water service to the affected areas. The 24-inch main is the primary line that provides potable water to customers from Subbase to Long Bay and in outlying areas.
According to WAPA, the repair work will require a service interruption to water customers in areas east of Subbase including Harwood Highway, Frenchtown, Altona, Savan, downtown Charlotte Amalie, Hospital Ground, Long Bay, Estate Thomas and a portion of Havensight. Beginning at 11 p.m. on Friday, water service will be interrupted while crews repair a second break on the 24-inch main. WAPA projects service should be restored by 9 a.m. Saturday.
To do the repair work, the Subbase roadway from the entrance to Crowley Marine will remain closed to vehicular traffic. Everyone requiring access to Subbase should enter and exit from the airport access road near the Emerald Beach Resort.