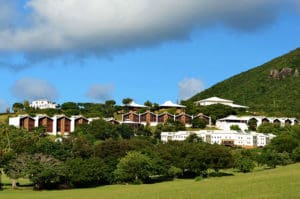 UVI to Close in Observance of Liberty Day The University of the Virgin Islands will be closed on Monday, Nov. 1, in commemoration of Virgin Islands Liberty Day holiday. Administrative offices and classes will re-open at their regular schedule on Tuesday, Nov. 2.
Dr. Tai Hunte-Ceasar Named Founding Dean of UVI School of Medicine UVI is delighted to announce the appointment of Virgin Islander Dr. Tai Hunte-Ceasar as founding dean of university's S. Donald Sussman School of Medicine. The medical school is on track to becoming the first Historically Black College and University (HBCU) medical school to be established since 1975 and the only public medical school in the nation. It will also be the first accredited and English-speaking medical school in the Caribbean.
"The journey towards having a medical school has been a long and winding road, with many challenges along the way, as well as numerous milestones of tremendous success," said UVI President David Hall. "The appointment of Dr. Hunte-Ceasar stands as one of those very successful milestones and the university looks forward to her leadership in getting us to the final destination."
UVI conducted an extensive national search that attracted multiple candidates from the Virgin Islands and abroad. "At the conclusion of our search, Dr. Hunte-Ceasar, emerged as the appropriate candidate for this critical position," said UVI Provost and Vice President of Academic Affairs Camille McKayle, Ph.D., chair of the search committee. "She is a bright, innovative and dedicated leader in the medical field and someone who can lead this very ambitious and transformative project. She will stand as an inspiration to Virgin Islanders who aspire to pursue a career in medicine and other health related fields."
More information is available in a news release on the Media Section of the UVI Website www.uvi.edu/
Season Two of RCA Sessions Concert Series to Lift Spirits & Bring Your Groove Back The University of the Virgin Islands' Reichhold Center for the Arts (RCA) will launch season two of RCA Sessions with the heart-lifting sounds of Lourdes & the Switch, a soulful modern rock band based on St. Thomas.   Beginning at 7 p.m. on Thursday, Oct. 28, viewers are invited to unwind and enjoy a live, virtual performance via the Reichhold Center Webpage as well as the Facebook Page.
"We are so excited to launch another season of RCA Sessions. It has been a pleasure to bring live entertainment, to music lovers everywhere," said Denise Humphrey, director of Reichhold Center for the Arts. "Bringing live performances to the people of the Virgin Islands is the vision behind the heart and soul of the Reichhold Center."  RCA Sessions was first launched in March of this year to showcase local artists across the territory. The first session showcased the talents of Dublab Reggae Band as well as local artists Louis Taylor and Friends as well as the "SHUT" Down Band.
Lourdes & the Switch is a "collection" of four individuals from four separate parts of the world who found a common musical bond in the Caribbean. Group members include Lourdes, a singer from the Philippines; Nathan, a bassist from Ireland; John, a guitarist from Myrtle Beach; and Andy, a drummer from Atlanta. Lourdes & the Switch have played with many stellar local musicians throughout the years, fine-tuning their musical voice.
More information is available in a news release on the Media Section of the UVI Website www.uvi.edu/
UVI Dance Program to Host a Series of Dance Workshops The Department of Communication and Performing Arts Dance Program presents "The Roots of Modern Dance" workshop series with Assistant Professor DaCosta Johnson. Join in on the fun and release your "Inner Dancer" from 1-2:30 p.m., on Wednesdays and Fridays.
The dance workshops will take place Oct 20, 22, 27, 29, and Nov 3 and 5. The workshops are free and open to UVI and the wider Virgin Islands community.
To join via Zoom, visit the following link: https://zoom.us/j/6132049503
For more information, contact Prof. DaCosta Johnson at djassi.johnson@uvi.edu
Unlocking the Value in Data: What VI Government Employees Need to Know about Data Government employees, grant writers, managers and others interested in learning more about data and how it is used across the territory are invited to attend the University of the Virgin Islands Data Science Program's webinar from 9 a.m. to 10:30 a.m., Wednesday, Oct. 27, via Zoom.
Follow the link to register: Data Science Webinar
Attendees can increase their agency's understanding by partnering with UVI's new data science program. This webinar will help make participants more valuable. Participants will learn how data affects their budget and get them more money, and it is used to evaluate success. Three participants will be randomly chosen to receive a free coaching session that will upskill a person's data knowledge and capabilities or assess an agency's data processes.
UVI offers two Data Science programs – a data science minor for students enrolled in a degree program and a data science certificate for professionals pursuing a certificate. Both programs blend mathematics, statistics and computer science to offer students a wealth of skills that prepare an individual to lead in a competitive workforce.
For more information, contact Joanne Luciano, Ph.D., at 693-1253 or email  joanne.luciano@uvi.edu.
2021 Free Virtual College Fairs The Virgin Islands community is invited to join The University of the Virgin Islands (UVI) at the National Association for College Admission Counseling (NACAC) Virtual College Fairs.
The four-day fairs will take place on the following dates: Sunday, Oct. 3; Sunday, Oct. 24; Tuesday, Nov. 2 and Sunday, Nov. 14.
Attendees will have the opportunity to get a detailed look into the degree and certificate programs offered by UVI as well as other universities, meet with the housing director and gain a clearer understanding of UVI's admissions process.
To register, click the following link: https://virtualcollegefairs.org/conventions
For more information, call the Orville E. Kean (OEK) Campus – Admissions Office at 693-1097 or the Albert A. Sheen (AAS) Campus – Admissions Office at 692-4158.
Coastweeks Cleanups Continues Through October The Virgin Islands Marine Advisory Service (VIMAS) is seeking volunteers to assist with upcoming Coastweeks Cleanups through October on both St. Thomas and St. Croix at various beaches.
Interested volunteers should register for cleanups using this link: https://forms.gle/NMjEo6bkRMvKpsUU9
These cleanups help to remove trash found on coastlines and roadways that could negatively impact the territory's valuable wildlife and ecosystems. Students are eligible to receive community service hours for attending these cleanups.
For more information, contact Howard Forbes Jr. at 693-1672 (STT), Marcia Taylor at 692-4046 (STX) or email howard.forbes@live.uvi.edu.
The Virgin Islands Marine Advisory Service (VIMAS) to resume Glass Collections The Virgin Islands Marine Advisory Service (VIMAS) will be resuming the collection of glass beverage bottles however, this will be done by appointment only.
You can e-mail Howard Forbes Jr. at howard.forbes@uvi.edu to schedule a drop-off of glass beverage bottles. Bottles will be collected at the university's MacLean Marine Science Center and not at the former West Bay Super Market's parking lot.
For additional information, contact Howard Forbes Jr. at 693-1672.