Breath, which has traveled 50,000 miles during its lifetime, will remain in Coral Bay under new ownership.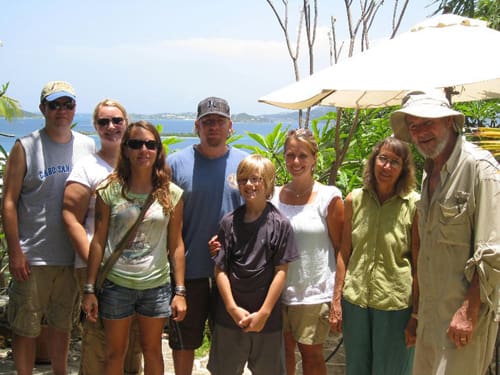 Lary Larson, Christina Larson, Lindsay MacDonald, Jesse Consolatti, Caden Consolatti, Amy Consolatti, with Dorothy Muilenburg and Peter Muilenburg.
Master mariners and world travelers Peter and Dorothy Muilenburg have bid farewell to the boat they built on the East End and spent the past quarter century sailing from St. John shores.
"It was a long time coming," said Peter, who has battled Parkinson's disease for the past 20 years. "When we had to sell the boat, one of the unhappy thoughts was the possibility of it being sailed somewhere else."
But the ending between the gifted author and his gaff rigged, 42-foot, 24-ton sailboat which has embedded itself into the local sailing lore over the years is bittersweet.
Breath, which the Muilenburgs sold to Amy and Jesse Consolatti in mid-July, will stay anchored in Coral Bay. And the new Wisconsin-based owners plan to operate Breath's charter business in the same capacity as before with Colin Hanson, who has worked alongside Peter for the past eight years, as her captain.
Amy Consolatti said she fell in love with Breath when she and her 12-year-old son, Caden, came to St. John in March and went sailing on Breath with her younger sister, Lindsay MacDonald, also Hanson's girlfriend and a close friend of the Muilenburgs. A few months later MacDonald called her sister to say Breath was for sale, and the Consolattis decided to seize the opportunity to run a family charter business they hope will earn enough money to cover frequent visits to St. John.
"We want to keep Breath in Coral Bay and keep her rich history and tradition alive while gearing the charter business toward families," Amy said. "This was just one of those things I wanted to do as a family business – to be able to teach my son to sail, keep it in the family, keep running the charters with Colin still captaining and my sister as the first mate."
The Muilenburgs couldn't be more pleased with the way the deal turned out. Peter calls Breath a St. John boat – built on the island's shores and even saved by its people, referring to the time in 2001 when Breath wrecked onto a rocky Bahamian beach and community members banded together to raise enough money to bring her back to life and sail her home.
"This is exactly what I wanted to see if I had to sell the boat," he said. "Colin knows it from scratch. He has been the skipper for several years. It was a sweet ending."
Talking with Peter makes it evident that Breath was not just a boat; she was a part of the life he built with his wife, Dorothy, and their two sons, Rafael, now a Harvard Law graduate who practices on St. John, and Diego, who is finishing his last year of training to become an oncological surgeon.
"I had some great experiences – from the time we built the boat, we sailed it," said Peter, whose book, Adrift on a Sea of Blue Light, chronicles some of the interesting stories and touching memories created along the way. "It was a wonderful way of life."
Peter built Breath, the biggest boat ever constructed on St. John, from 1980 to 1982. And from the time she set sail in '83 with the Muilenburgs at her helm, Breath has crisscrossed the Caribbean as far west as Cuba and as far south as the Venezuelan coastlines, traveled the Bahamas several times over, explored the mid-Atlantic Azores archipelago, anchored in the waters surrounding Portugal and Spain, spent a summer in Greece and Turkey, and sailed down the coast of Africa to Morocco, into the Canary Islands, and 250 miles up the Gambia River.
"You can't travel as many miles as we have without getting the experiences to talk about," Peter said. "There was always something more interesting than staying at home when you had a great boat like I had. And you are never a tourist when you are sailing on your own steam."
Peter and Dorothy, who moved to St. John during their first year of marriage more than 40 years ago, raised their children on the water.
"It was a great way to raise the kids and a great way to travel," he said. "Kids on a sailboat who are regularly going out to sea have important jobs to do from a very young age. They are a pair of ears and eyes that are just as sharp – maybe sharper – than those of an adult."
The Muilenburgs, who have built a large part of their lives at sea, will continue the next chapter from their home perched high on Bordeaux where they rent out their recently-built captain's cottage, Mountain Eyrie, and Peter works on his next book.
Their mountaintop home provides the ideal panorama for the Muilenburgs: including an aerial view into Coral Bay harbor where Breath still remains, serving as a constant reminder of the lifetime of memories collected over the 50,000 miles voyaged under her sails.