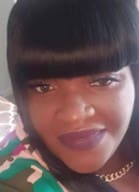 Tammy E. David died on March 21 in Newnan, Ga. She was 35 years old.
Tammy is survived by her mother, Mavis Meade; father, Robert David; children: Jerikai Francis and Yesenia Lily David; sister, Brigette (Peggy) David; brothers: Robert, Patrick and Shamoy David, Valmon Glasford and Rupert Campbell Jr.; uncles: Gaston, Winston and Carlisle David, and Emile Smith; and nieces: Kwanasia Charles, Vashanyah Glasford, Kia Campbell, Savannah, and Kaylee and Cassidy David.
She is also survived by nephews: Roquan, Kamron and Adrian David, Fitzroy (Junjun) Wattley, and Vashawn, Veejay and Valmon Glasford; cousins too numerous to mention; special cousins: Alicia Welsh, Barbara and Lydia Prescott, Deshawn and Keshawn Felicien, Samuel (Sammy) Fenton and Aaliyah Fenton. She is also survived by her godchildren: John'Nicky (Poe-poops) Alfred, J'Anna (Pumpkin) Alfred and Kenari Williams; and special friends: Laurel (Peggy) Parker, Mimi Lapera, Bathsheba Prince and Kayon Hodge.
The viewing will be held at 9 a.m. followed by a funeral service at 10 a.m. on Thursday, April 15, at Turnbull's Funeral Home. Funeral arrangements are entrusted to Turnbull's Funeral Home and Crematory Services.