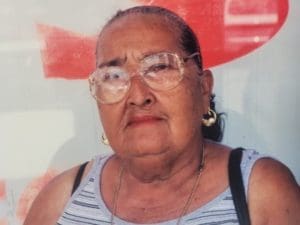 Carmen Ramos Ayala, better known as "Ping," "Carmin" or "Pindok" died on March 21 in Houston, Texas.
She was preceded in death by her parents: Juan Ayala Figueroa and Veneranda Ayala Guadalupe; husband, Marcelo Ramos Garcia; brothers: Thomas Ayala and Luis Ayala; sisters: Ana Ayala, Benita Ayala Davis and Olga Ayala; sons: Juan Ramos and Marcelo Ramos Jr.; daughter; Virginia Ramos; and grandson, Eddie Steward.
She is survived by her sister, Iris Ayala; brother, Antonio Ayala; five children: Maria N. Cotto, Benjamin Ramos, Eddie Ramos, Samuel Ramos and Antonio Ramos; daughter in law, Zita Ramos, Ana E. Cruz Ramos and Ada Alonso Ramos; 16 grandchildren; 23 great-grandchildren; three great-great-grandchildren; sister-in-law, Lydia Ayala; and other extended family members too numerous to mention.
The first viewing will be held from 3-5 p.m., Monday, April 26, at James Memorial Funeral Home Inc., 4040 Estate La Grande Princesse, Suite 9, Christiansted, St. Croix, USVI.
A second viewing will take place at 10 a.m. followed by the funeral service at 10:30 a.m., Tuesday, April 27, at Holy Cross Catholic Church in Christiansted. Interment will be at Kingshill Cemetery.
Funeral arrangements are entrusted to James Memorial Funeral Home Inc.
Due to the COVID-19 pandemic and public health regulations, the family requests that masks be worn at all times and social distancing be adhered to.