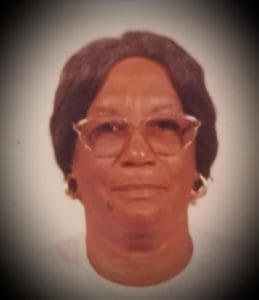 Valina Maynard, also known as "Miss Tiny" or "Mums," who last resided in Brunswick, Ga., and formerly lived in New Works, St. Croix, died on April 7. She was 93 years old.
She was preceded in death by her husband, Clyde "Buggins" Maynard; and grandson, Joseph "Joey" Marsh Jr.
She is survived by her daughters: Veronica Pennie, Linda Herbert, Lystra Herbert, Pamela Marsh and Myrlin Hazlewood; sons: Clive, Mervin, Rudolph, Irwin, David and Junior Maynard; stepchildren: Kelvin, Brenda, Wayne, Jennifer, Percival and Diann Maynard; and grandchildren: Patrick and Bernadine Pennie, Eddison, Elroy, Evin, Matthew, Tricia, Khiry and Justice Maynard, Kristin Ellis, Andrew Riley, Denise Herbert, Rolando and Marcia Marsh, Jovon Branch, Tyrone Hazlewood III., Takeyla Lane, Jayden Wright, adopted grandson Benson Ward II and 15 others.
She is also survived by 20 great-grandchildren; sisters: Joy D. Herbert and Judelyn Hinds; nephews: Peter and Richard Hinds; cousins: Ronald Daniel, Wilma Joseph, Lola Brewster, Lancelot, Lionel, Litchfield and Mervyn Lewis; brother-in-law, Joseph Maynard; daughters-in-law: Volda, Christine, Brenda and Gegoria Maynard, and Beverley White; sons-in-law: Joseph Marsh Sr., Tyrone Hazlewood and Addington Williams; and friends: Dennis Armstrong, Millicent Liburd, Genevieve Herbert, Icilma Peters, Emelda Thomas, Yvette Noel and St. John's Episcopal Church.
Other friends include and Athanasius Episcopal Church of Brunswick, Ga., Ira Hobson, Sonia Modeste and family, McKnight family, Juanita Fergus, Brenda Lewis, Edwina Taylor, JoyAnne Norman, Yvette and Lesroy Marsh, Trevor Bryan, Carlos and Lynette Christian, Beatrice Luke and Kerena Martin; caregivers: Vera Holmes, Roberta Mciver Lane and Marie Lane; as well as other relatives and friends too numerous to mention.
A viewing will be held from 3-5 p.m., Thursday, April 22, at the James Memorial Funeral Home in La Grande Princess.  A funeral service will be held on Friday, April 23, at St. John's Episcopal Church at 27 King St., Christiansted. Tributes and eulogy begin at 9 a.m. and the service at 9:30 a.m. Interment will follow at Kingshill Cemetery.
Due to the COVID-19 pandemic and public health regulations, face masks must be worn at the viewing, church and cemetery.