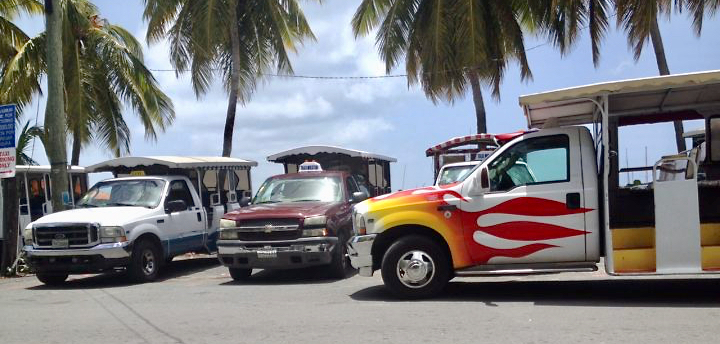 People leaving Carnival Village were surprised to find a frequent town-to-Red Hook taxi driver wasn't in his normal safari truck last week. The V.I. Taxicab Commission's office on St. Thomas had been closed for more than a month. Unable to get his necessary permits renewed, he was driving a gypsy cab.
The driver said the Sub Base office on the first floor of a building managed by the Department of Property and Procurement was empty. He'd heard it was mold.
Vernice Gumbs, the commission's executive director, said Property and Procurement had advised her and the other four employees not use the office because of "environmental issues" in March. This meant much of the usual activities were on hold, possibly through May.
"Our agency does not have the technology that would allow our staff to work remotely," Gumbs said Thursday. "I have been diligently seeking the use of a temporary locations so that we can provide limited services, but to no avail."
It's the most recent wrinkle in a longstanding rankle at the commission that's induced ire from drivers, legislators, and former executive directors.
Lawrence Ramdhansingh, president of the Virgin Islands Taxi Association, said something didn't smell right.
"It's more than fishy. It's a big whale, dem," Ramdhansingh said. "I don't know if they are getting paid to sit at home."
He said the essential office operations could be completed with a rubber stamp and cash register.
"There is absolutely no reason — there are so many places available — that they couldn't set up something in 10 minutes," he said. "This is a government. If the office is closed, you know, set up some kind of office someplace."
The commission said in an April statement that it would waive all penalties for taxi operators from Feb. 28 "through March, April and if necessary, May."
One of the commission's two enforcement officers is still patrolling, Gumbs said. The other's vehicle is broken.
"It's so embarrassing," Ramdhansingh said. "It's really stressful. We're kneecapped; can't get our document in order; no information from the administration as to why it's closed and when it'll reopen."
Gumbs directed questions about the reason for the closure to Property and Procurement Deputy Commissioner Vincent Richards, who directed questions to the department's acting commissioner, Lisa Allejandro, who did not immediately return requests for comment.
Gumbs said she'd been busy since the March office closure.
"I have been meeting with taxi operators, responding to messages left on the designated phone numbers provided," she said.
She did not say what the employees have been doing.
Loretta Lloyd, chair of the Taxicab Commission's board of directors, also didn't immediately return telephone and email messages asking for comment. No one picks up the St. Thomas commission line.
Ramdhansingh disagreed with the assertion of a robust communication strategy and echoed concerns about broader discord in the commission.
"There's no communication between the executive director and the employees and the drivers," he said. "The board need to quit, resign, or be gett'n rid of."
Ramdhansingh said independent taxi drivers, unaffiliated with the association, were upset about being behind on their paperwork too. It's only a matter of time, he said, before police stop a taxi driver with expired documents.
"No might; he will stop you. He check your document," Ramdhansingh said. "It's just a reckless situation."