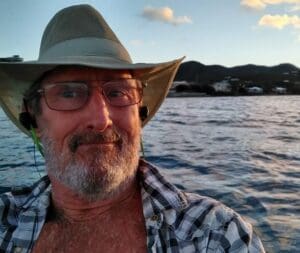 Tazewell Reed, a native of Virginia Beach, Va., passed away after an accident on St Croix, U.S.V.I.
He is survived by his brother, Carter Reed of Virginia Beach. (1956 – 2022)
Tazewell was an expert in electronics and especially satellite technology.  He was a lover of life and enjoyed kayaking, surfing, photography, scuba diving, tennis, debating politics with his friends and rambling around the beaches of St. Croix with his dog, Peeka.
He will be deeply missed by his many friends and colleagues.  A memorial service in Virginia Beach is being planned for this summer.