Pictured above: Veterans and volunteers at the Team River Runner picnic in 2013 at Cinnamon Bay. Photos provided by Doug Benton.
Team River Runner is returning to St. John and we hope you will be part of this visit. The wounded veterans will be special guests at a community-sponsored afternoon picnic at American Legion Post 131 (by the Ag Center, just down from Love City Mini Mart, in Coral Bay) on Saturday, November 5, 2016 at 1 p.m. Many of you have come to the picnic in past years and have played an active roll supporting the effort. Again, thank you; we hope you can join us again.
This year, as in the past, the local American Legion Post 131. Legion Auxiliary and the incredible volunteers from our local AARP chapter are teaming up with residents and other community-based groups to make this a special community event. If you haven't come in the past, you are missing a really special day, including a chance to meet some of the men and women who fought for our country and are recovering from service-related injuries or illnesses.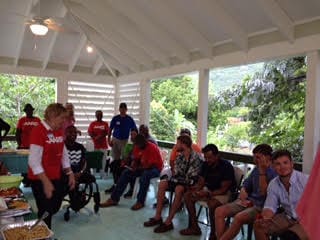 This is a casual event with plenty of food and a lot of love and heart. If you would like to attend or help, please let us know by calling 340-201-1837 or emailing crabbyswatersports@earthlink.net. The public is invited. Side dishes or donations to Team River Runner are needed.
Thank you,
Phyllis and "Crabby Doug" Benton