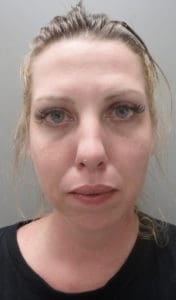 Breanna K. Ward, a 34-year-old resident of Kingwood, Texas, who is in the custody of the Bureau of Corrections on a fugitive from justice charge, was arrested again on April 16 by the COVID-19 Enforcement Task Force, charged with posting a false COVID-19 test result to gain access to the U.S. Virgin Islands, according to police.
The V.I. Police Department charged Ward with fraudulent claims upon the government, access to a computer for fraudulent purposes, use of false information, and filing or recording forged instruments.
According to the VIPD, investigators discovered that Ward had altered her COVID-19 test result, and uploaded the altered test into the Virgin Islands Travel Portal.
Bail for Ward was set at $5,500, which she could not post. She was remanded to the custody of the Bureau of Corrections, pending her advice of rights hearing.
Department of Health Commissioner Justa Encarnacion denounced Ward's alleged actions in altering her COVID-19 test results, allowing her to travel to the Virgin Islands.
"This is a huge threat to public health and everything we do to protect our community. That is why the travel portal is in place. Uploading fraudulent results, or altering results in any way, shows a disregard for the well-being of others," Encarnacion said in the Saturday news release reporting the arrest.
Editor's note: This story has been edited since it was first posted. The Source originally published the results of Ward's COVID test as reported by the V.I. Police Department, and has removed that information at the request of the police, who continue to charge her with falsifying her test results without stating what those results were. Anyone who thinks they may have been in close contact with Ward should call 340-712-6299 or 340-776-1519.