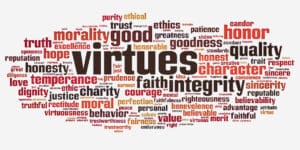 Virtue of the Week focuses on building peaceful and caring communities through understanding and fostering the practice of virtues. The Source supports the Virtues Project and will publish one virtue developed by the project each week.
Faithfulness
Faithfulness is being loyal to our beliefs, remaining firm and steadfast regardless of what happens. When our faith is tested, we stay strong and learn from the experience. We do our work with meticulous care and excellence, faithful to its true intent. With the people we love, we are abiding and trustworthy. They know we will not abandon them or violate the sacred trust between us. Faithfulness through the changes and tests of time is a sign of lasting love. Faithful friendship is one of life's greatest treasures.
Quote: "Health is the greatest gift, contentment the greatest wealth, faithfulness the best relationship."
–Guatama Buddha
The Practice of Faithfulness
I am committed to my beliefs.
I seek the lessons in difficulties.
I give my work the care it deserves
I stand by my friends and loved ones.
I have abiding relationships.
I cherish my friendships.
I am thankful for the gift of Faithfulness. It makes me a covenant person.
Questions for Discussion
Is there a difficult situation that can be re-examined through the lens of faithfulness?
What helps you remain faithful when challenges arise?
How do you demonstrate your own faithfulness to the people and ideals you care about?
What is a faithful relationship for which you are grateful? What is it about the relationship that is so meaningful?
Virtues Matter was started by a passionate wife-husband team of social entrepreneurs seeking to positively uplift as many lives as possible. We aim to inspire and empower, to build capacity, strengthen relationships, and help everyone lead lives of passion and purpose.
Virtues Matter believes in a world where people are committed to kindness and respect, strive to be their best, and live with hope, courage, and in unity. We built the Virtues Cards mobile app, an interactive personal and team development tool, to help people identify and develop key virtues skills. We also offer dynamic workshops, online training, and customized programs to help people cultivate these positive qualities of character. To learn more, visit www.virtuesmatter.org .