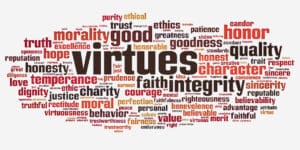 Virtue of the Week focuses on building peaceful and caring communities through understanding and fostering the practice of virtues. The Source supports the Virtues Project and will publish one virtue developed by the project each week.
Forgiveness
Forgiveness is overlooking mistakes and letting go of resentments. Forgiveness frees us from the needless pain of reliving a hurt over and over. Forgiveness doesn't make a wrong choice right; it brings the generosity of spirit to release it. Forgiveness can heal even the most grievous offense. It brings a blessed opportunity for a clean start. Accepting Divine forgiveness transforms our hopeless guilt into resolve. Self-forgiveness moves us forward, ready to do things differently, with compassion for ourselves and faith that we can change. Forgiveness opens the door of hope.
 Quote: "Resolve to be tender with the young, compassionate with the aged, sympathetic with the striving, and tolerant with the weak and wrong. Sometime in your life, you will have been all of these." – Robert H. Goddard
Practice of Forgiveness
I free myself from pain and resentment.
I am willing to heal the past.
I find it in my heart to give others another chance.
I understand that mistakes are a necessary part of growth.
I have the power to change for the better.
I understand my reactions are my choice.
 "Forgiveness says you are given another chance to make a new beginning." – Bishop Desmond Tutu
Questions for Discussion
Is there any forgiveness that is being withheld in our community?
In terms of our social justice work, what does forgiveness look like? What form should/could it take?
Are there any resentments being held that would impede our social justice work? What do we need to release them?
Is there anything we need to forgive ourselves for? What would it look like to practice self-forgiveness?
Virtues Matter was started by a passionate wife-husband team of social entrepreneurs seeking to positively uplift as many lives as possible. We aim to inspire and empower, to build capacity, strengthen relationships, and help everyone lead lives of passion and purpose.
Virtues Matter believes in a world where people are committed to kindness and respect, strive to be their best, and live with hope, courage, and in unity. We built the Virtues Cards mobile app, an interactive personal and team development tool, to help people identify and develop key virtues skills. We also offer dynamic workshops, online training, and customized programs to help people cultivate these positive qualities of character. To learn more, visit www.virtuesmatter.org.