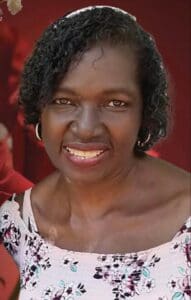 Tracy Melinda Peters died on July 19 in Maple Shade, N.J.
She was preceded in death by her mother, Petronella Peters; and uncle, Novelle Francis Sr.
She is survived by her father, Thomas Peters; children: Robert Walsh Jr. and Desiree Joseph Jarvis; sisters: Brenda Peters-Jarvis, Louise Peters Hodge and Mellissa Joseph; brother, Thomas Peters Jr.; uncles: Wilbert McCoy, Stanley "Peewee" Francis and Patrick Francis; aunts: Inez Richards, Condace Braithwaite, Catherine (Trixie) Orr, Auklyn Harris and Goldine King; and nephews: Omar Jarvis, Emile Joseph Jr., Zephaniah Joseph, Nikusibila Hodge, Thomas Peters Jr. and Jehad Peters.
She is also survived by nieces: Suma Hodge, Takiyah Hodge, Shondell Joseph, Nathifa Joseph, Kaie Jarvis and Asya Maurasse; cousins: Tracey "Connie" Francis-Morrissey, Cassandra Gaulden, Judith McCoy, Elena Andrews, Laura McCoy, Velma McCoy, Sen. Novelle Francis Jr., Donald Francis, Joycelyn Francis, Nadine Peters, Marriette Harris and Jarrod Harris; brothers-in-law: Emile Joseph and Clarence Jarvis; special friend, Sister Miriam Griffith; as well as other relatives and friends too numerous to mention.
Funeral Services will be held on Monday, Aug. 8, at Abundant Life Fellowship Church in Beverly, N.J.