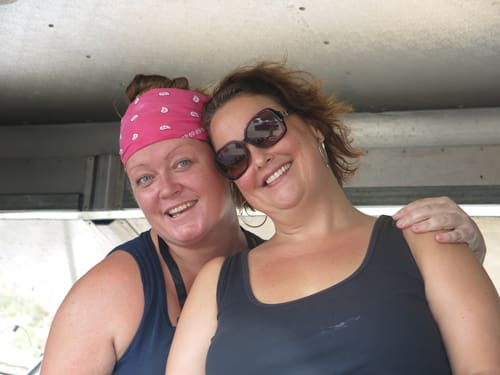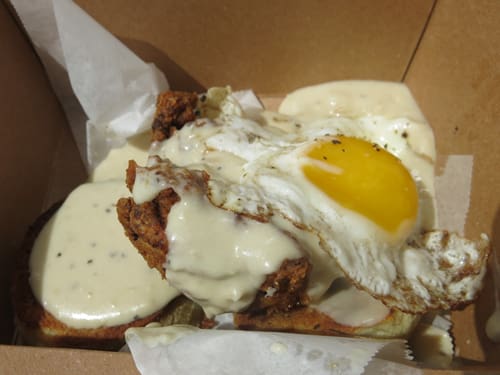 Erin Durrell and Amy Star of Triple B are serving up delicious brunch items from their food truck every Saturday, Sunday and Monday, next to Oasis in on the Coral Bay waterfront.
CORAL BAY — Sitting across from Coral Bay harbor enjoying a cooling breeze is a great way to start any morning, but add a buttery home made biscuit drenched in velvety bourbon gravy and topped with crispy fried chicken and a perfectly runny fried egg and the morning is suddenly elevated to greatness.
Triple B, Two Babes do Brunch on the Bay, is the brainchild of Erin Durrell and Amy Star, who are serving up brunch each Saturday, Sunday and now Monday out of a 20-foot food truck next to Oasis in Coral Bay.
Durrell, who has called St. John home since 2003 and has cooked everywhere from mega yachts to Shipwreck Landing, helms the kitchen, turning out mouth-watering dishes like the Mama Bene. With butter poached local lobster and Sherried hollandaise sauce atop a bed of sauteed spinach and a house-made English Muffin, the recent Triple B Benedict special was a perfectly decadent way to start the weekend off right.
"I love brunch," said Star, who moved to Love City last year from Austin. "I felt like there was something missing for breakfast and brunch here in Coral Bay. I love going out to brunch and I wanted some place to go."
Handling the front of the house — if one can call any space in the 20-foot truck front or back — Star doesn't go out for brunch as much as she hands it out these days. And she's been kept busy at that.
Since opening in early April, Triple B has enjoyed strong support from locals and tourists alike.
"Our first day was April 11 and we sold out in a few hours," said Star. "The reaction was awesome. We thought maybe 30 or 40 people would stop by and that we've have enough food to get us through the next day."
"We served 69 people and we had to go and make the entire menu over again," she said.
"I was so nervous before we opened," said Durrell. "I felt more pressure because my name was on the line and I didn't want to disappoint my friends and Coral Bay family. Before we even opened there was a line and we burst into tears."
Durrell, who hails from Rhode Island originally, grew up around food beginning at her mother's fish and chip shop.
"I've always cooked and I've always loved good food," said Durrell. "I came down here working as a private charter chef and then worked in a few places before I took a break from it and started bartending. But eventually I missed cooking."
Durrell works both in the kitchen and behind the bar at Shipwreck Landing, where she has worked for the past five years. She had always aspired to opening her own place some day. Star happened to have a food truck and when the two met thanks to a mutual friend, a brunch truck was in the stars.
"As soon as we met and started talking about this, we just immediately clicked," said Durrell.
"We had a food truck and didn't have anything inside of it," said Star. "I had wanted to do breakfast and my original idea was coffee and doughnuts. I tried and failed several times to make doughnuts and that clearly was not working for me."
"I knew something like this could work but I couldn't do it myself," Star said. "When I met Erin, we were on the same page instantly."
That page Durrell and Star are on happens to be one seriously tasty page.
While Durrell's Triple B menu changes weekly, there are a few items that find their way on the chalkboard outside the food truck most weekends. Durrell's Coral Bay Parfait — home-made cashew almond granola, Greek yogurt and fresh fruit — and the Triple B Eggroll — house-made pork sausage, egg and cheese in a crispy wonton wrapper drizzled with 100 percent maple syrup — are a few repeating favorites.
Yet Durrell brings true creativity to the Triple B kitchen and allows her produce to dictate the week's menu.
"A lot of the menu revolves around what I can get my hands on that week," she said. "If I can find something locally, like mangoes or pumpkin, or this week actually it was soursops, that's where I start. I also use Joesphine's greens and local honey as much as possible."
"I kind of cook whatever pops into my mind," Durrell said. "It's definitely a creative outlet for me. After living here for 13 years, I get bored of what we have all the time so I thought it would be nice to have an ever changing menu."
A recent brunch menu featured Triple B's Breakfast BLT — thick cut applewood bacon, fried egg, red wine jam, local greens and a primavera blend aioli on homemade honey oat toast — chicken and biscuits, warm apple fritters with caramel sauce, chocolate cherry mini Bundt cakes and triple berry scones.
Iced Chai spiced coffee lattes, mimosas, white peach sangrias and fresh fruit juice blends make for the prefect accompaniment to those dishes.
Don't miss Triple B, serving up breakfast Saturday and Sunday from 8 a.m. to 2 p.m. and Monday from 7 a.m. to 12 p.m., or until sold out, next to Oasis in Coral Bay.
The truck is mobile, the ladies recently served up breakfast to hungry sailors at the Budget Marine Commodore's Cup at Skinny Legs, so diners are encouraged to check Durrell and Star's Facebook page to make sure of Triple B's location.