Two vehicles were engulfed by flames on Love City within two days last week.
In an apparent arson incident, a black 1992 Isuzu Rodeo was set afire early Monday morning, July 17, in the parking lot of Skinny Legs in Coral Bay.
Arson Investigation
The car fire was reported by a "concerned citizen" to firemen at the Coral Bay Fire Station at 4:32 a.m., according to the fire department's incident report. When fire officials responded at 4:34 a.m., the vehicle was fully engulfed, the report stated.
The fire was extinguished at 5 a.m. and officials called arson investigators to look into the incident, according to the report. The V.I. Police Department did not have any additional information regarding the vehicle arson.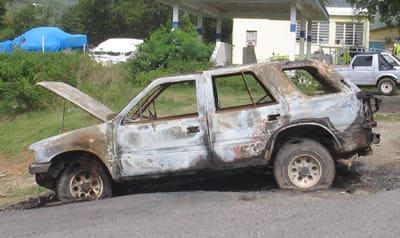 "The police were not called," said VIPD spokesperson Shawna Richards. "The Fire Department responded and have not yet determined what may have caused the fire. The incident is still under investigation."
A second vehicle caught fire on Tuesday afternoon, July 18, on Centerline Road near Mamey Peak. In this incident, a tow truck was towing a truck and the truck being towed caught fire, according to St. John Fire Department Chief Brian Chapman.
Sparks from Towed Truck
"Evidently the tow truck had the front of the vehicle that it was towing lifted up but not the rear end," said Chapman. "The sparks from the rear end being dragged apparently caused the fire."
The second vehicle fire was reported to the Coral Bay Fire Station at 4:05 p.m., according to the incident report.
Engulfed in Flames
When fire officials arrived on the scene, the truck was engulfed in flames, the report stated.
While extinguishing the fire, officials found out the truck was being towed when it caught fire, according to the report.
Firemen extinguished the fire at 4:30 p.m. and the tow truck driver — who apparently had a part in causing the fire — towed the vehicle to the dump. No one was injured in the incident.
Richards did not return St. John Tradewinds phone calls requesting comment on the second vehicle fire.