On Thursday, a welder worked to reinforce the General II's ramp in preparation for a Friday morning Coast Guard inspection. The vessel has been out of service since June 28 when inspectors said repairs must be made before US certification is granted.
St. John Tradewinds photos by Judi Shimel.
[hr gap="0.25″]
ENIGHED POND  — After six weeks of delays and frustration, it appears that inter island barge service between St. Thomas and St. John is making a comeback.  An agreement between two St. John barge companies and the U.S. Coast Guard could have three vessels back on duty by Friday.
[adrotate group="6"]
Under the agreement one vessel run by Love City Car Ferries and one operated by Global Marine, Inc. can resume service until access ramps are replaced.
A third vessel, belonging to Love City has been repaired, inspected and certified for full service. That vessel, Island Vic, was cleared by the Coast Guard earlier this week.
Island Vic suffered propeller and engine damage in August after operators said it backed away from the barge dock at Red Hook, St. Thomas and plowed into underwater sediment.
"Island Vic has completed all repairs and is back in service. Coast Guard Marine inspectors attended the vessel on Monday to ensure engine was running properly following repairs. "The Island Vic has no current restrictions on it, so it is running at full capacity," said Coast Guard Public Information Officer Ricardo Castrodad.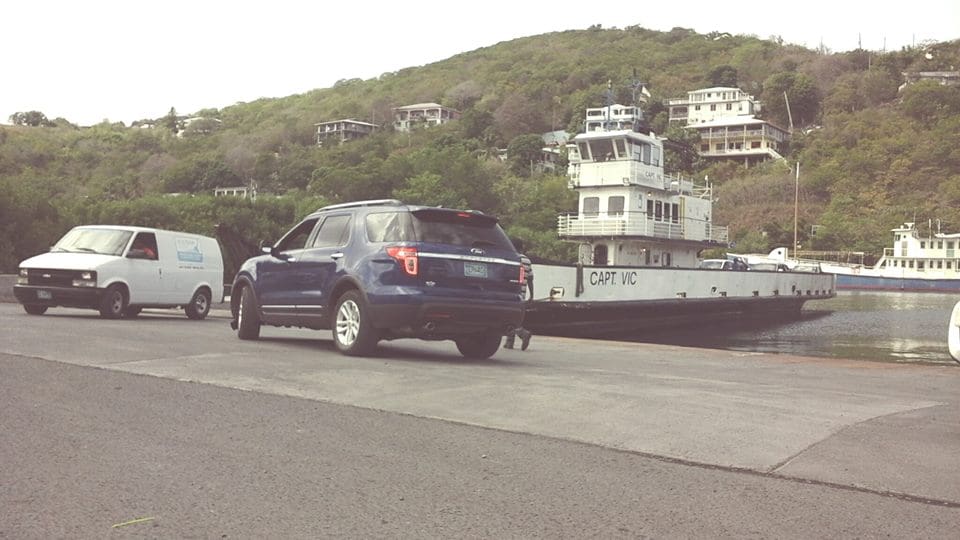 The return of Island Vic and the continued operation of the Cap't Vic eased a situation where cars and trucks waited hours at a time for inter island transport across Pillsbury Sound.
But Castrodad said both Cap't Vic and Global Marine's barge, General II, still needed to replace their barge ramps before receiving full certification. Officials of the two companies negotiated separate deals to repair existing ramps and undergo inspection with hopes of gaining approval pending the completion of ramp replacements.
The status of Cap't Vic was returned to restricted operation, allowing transport of cars and trucks under five tons until the ramp is replaced. That restriction was eased temporarily while Island Vic was disabled.
A welder on board General II kept sparks flying Thursday afternoon along the vessel's existing ramp. Owner Stanley Hedrington said he was preparing for inspection on Friday morning.
"If all goes well," he said, "the barge could be put back on the run later in the day."
Global Marine submitted their repair plan July 25, after three weeks of negotiations. Hedrington expressed confidence that temporary repairs to the existing ramp would find favor with officials.
"We're almost through with the repairs. We meet with the Coast Guard tomorrow morning at nine. Once that's done, we should be back in service," Hedrington said.
The restoration of barge service comes a few days before the status of barge service is expected to come up as a topic before the Port Authority Board of Directors on Aug. 17.
At the time of the last board meeting in July, barge service had dwindled to a crawl. VIPA Executive Director Carlton Dowe was floating a poll vote among board members that would have allowed another barge service provider, Varlack Ventures, to enter the picture.
Representatives of Love City, Global Marine and Boyson Inc. showed up at the July 21 board meeting and persuaded officials to delay the poll vote until further discussions could occur.
Boyson's barge, the Mr. B., was a main component in the inter island auto transit service until January. At that time a federal bankruptcy judge ordered the vessel seized in order to satisfy the company's creditors.