The 1.4 of cocaine seized had a street value of $25 million.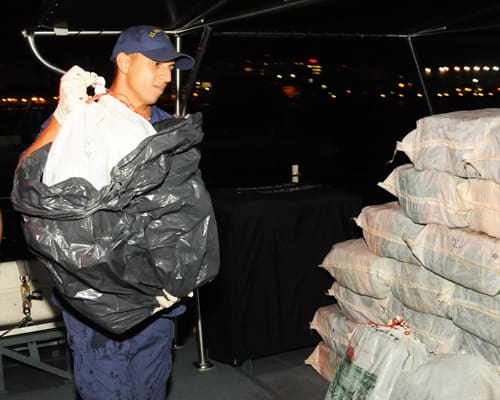 U.S. Coast Guard, Customs and Border Protection and Drug Enforcement Administration authorities disrupted a maritime illegal drug shipment Sunday night, May 20, and seized approximately 2,833 pounds, or 1.4 tons, of cocaine off the southern coast of St. Croix, U.S. Virgin Islands.
The drug shipment was estimated to have a street value of over $25 million dollars.
"The outstanding efforts and collaboration between all law enforcement authorities are responsible for this successful disruption and seizure, which prevented a major drug shipment from reaching our shores," said USCG Capt. Drew Pearson, Sector San Juan commander.
While on a routine patrol, CBP agents onboard a CBP DCH-8 marine surveillance aircraft detected four men aboard a suspicious vessel, approximately 50 nautical miles south of St. Croix, USVI Sunday evening.
Coast Guard Sector San Juan Watchstanders were notified and diverted the USCG Cutter Sapelo, who was patrolling the area at the time, to interdict the suspect vessel.
The crew of the CBP marine patrol aircraft observed the men onboard the suspect vessel jettison suspicious objects overboard and began to flee at a high rate of speed after they noticed the presence of law enforcement authorities in the area.
The crew of the USCG Sapelo arrived on scene and began to recover the jettisoned cargo from the water. After searching all night and the following day with the assistance of a Coast Guard MH-65 Dolphin helicopter from Air Station Borinquen, the crew of the Sapelo was able to recover 50 bales of suspected illegal contraband that had been thrown overboard from the suspect vessel. A further inspection and testing of the suspected drug shipment revealed the contraband to be cocaine.
The crew of the Cutter Sapelo transported the illegal drug shipment to Coast Guard Base San Juan Tuesday night, May 22, where they transferred custody to awaiting Drug Enforcement Administration Special Agents.
"This interdiction is part of CBP's continued effort to work with fellow federal, state, local, and international partners to combat individuals and criminal organizations that pose a threat to our communities," said Johnny Morales, Director of Air Operations for CBP's Caribbean Air and Marine Branch.
"This massive seizure of 1.4 tons of cocaine is a clear indication of the hard work and dedication that the DEA, the U.S. Coast Guard, Puerto Rico Police Department and Customs and Border Protection have in combining our resources," said Drug Enforcement Administration, Caribbean Division, Acting Special Agent in Charge Pedro Janer.
"We will continue to stop these groups who think they can smuggle narcotics into Puerto Rico with flagrant disregard of our enforcement capabilities and our laws," said Janer.