The U.S. Virgin Islands Charter Yacht Show kicks off Sunday, Nov. 7, at IGY Marina's Yacht Haven Grande St Thomas. Fifty approaching yachts with their crews will exhibit, and more than 130 charter brokers from the Caribbean, U.S. and Europe will attend either on-site or virtually, including Florida-headquartered Catamaran Central, the Show's official Yacht Sales and Charter Company.
This industry event, organized by the V.I. Professional Charter Association (VIPCA), gives yacht brokers a chance to meet crews and visit the fleet of yachts aboard which they will book clients on future week-long, all-inclusive vacations. The 4-day event is still open to late registrations by yachts and charter brokers alike. All show participants are required to be fully COVID-19 vaccinated and rigorous COVID-19 safety protocols are in place to assure the well-being of in-person attending brokers, exhibitors and island residents alike.
"Welcome Back to the United States Virgin Islands for the 2021 Charter Yacht Show on the island of St. Thomas. The beautiful Yacht Haven Grande Marina provides a perfect venue to showcase our returning charter vessels and new additions to the fleet. Yacht Haven Grande is truly worthy of their title as 'Superyacht Marina for 2021,' and we are bringing the Caribbean's best boats to you … get ready to step onboard into the finest USVI boat show ever," said Virgin Islands Governor Albert Bryan, Jr.
"The Charter Yacht Show is a grand event for the U.S. Virgin Islands because it says to people around the world that global yachting is alive and well, and we are keeping it in the USVI where it belongs."
Sponsor: Catamaran Central
What differentiates Catamaran Central is that husband and wife founders and owners, Wiley Sharp and Laura Jagielski, specialize only in catamarans. They also bring a wealth of industry experience to their 2020-launched business.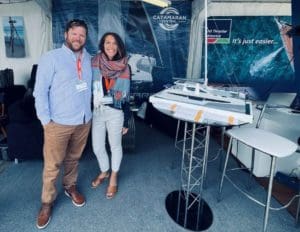 "There are thousands of makes and models of yachts, making it difficult to be an expert in all categories. By focusing solely on the catamaran space, we can hyper-focus on the technical data. It's a big differentiator with us. We're catamaran specialists rather than a jack of all trades. As such, we offer a boutique approach to sales of new and pre-owned multihulls," says Sharp, who is a founding member and past board member of VIPCA.
Catamaran Central is the exclusive North American dealer for C-Catamarans, built by Comar Yachts. The Italian-based company has built monohulls for decades and now designs, builds and sells its semi-custom performance line, ranging from 37 to 62 feet.
Brokers – See a Boutique Fleet
Brokers have made the USVI Charter Yacht Show their go-to Caribbean event for staying up to date with the fleet of boutique yachts and their crew. In fact, CYBA (Charter Yacht Broker's Association) will host its annual general meeting for members at the Show at 5 p.m., Monday, Nov. 8. Nearly 50 yachts are registered to exhibit at IGY's Yacht Haven Grande St. Thomas marina for the charter yacht show. The show fleet, which collectively averages 56.8-foot LOA, includes a diverse mix of vessels: sailing catamarans up to 77-feet and motor yachts in the 100- to 120-foot range. One of these is the 120-foot Palmer Johnson motor yacht, Burn Rate.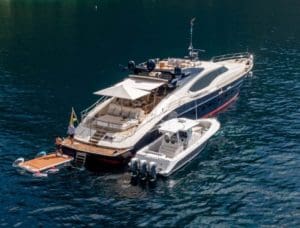 "Since M/Y Burn Rate stands out from the other yachts in the show and offers a different kind of yachting experience. At the moment, there are not that many options in this size and luxury range available for charter in the USVI. Most people in this market gravitate towards Fort Lauderdale and the Bahamas. We have such great sailing grounds in the Virgin Islands, and all within a local flight from the states.
"So being in the show is a good opportunity to let the brokers and their clients know that we are available in the USVI, and we can accommodate charters for them," said Captain Evert Theron.
Sailing catamarans feature as the largest contingent of the show. One of these is Justified Horizons, a 65-foot Lagoon built in 2021.
"We feel that the yacht show is beneficial for everyone involved whether it be crew, brokers, vendors, local businesses [or] the yachting community. The brokers can see, in person, what each boat has to offer and match us with their clients to ensure a perfect vacation. It provides an opportunity for the crew to get to know each other as we are a huge support system for each other out on the water. The show also allows us to give back and support local businesses that make our industry successful," said Captain Ryan Querry, who, with Dani, his wife and chef, and Christian Doyle, his first mate, brings over a decade of combined experience as crew to the new vessel.
Justified Horizons is the only 6-cabin Lagoon 65 which enables up to 10 guests.
Don't Miss – Industry Update, Competitions and More
The 'Industry Update Seminar,' which provides an informed look at the season ahead, will take place at 4:30 p.m., Sunday, Nov. 7, at IGY's Yacht Haven Grande. The Show Culinary Competition and Cocktail Competition are set for Nov. 8 and 9, respectively. The judges this year will be chef, pro-boxer and author of "My Modern Caribbean Kitchen" St. Thomas native Julius Jackson; Chef Ralph Motta of Motta Cuisine on St. Croix; Chef Colin Auchincloss of Island Edge Culinary; and Eron Brown of Sugar Brown Farms.
The silent auction for a 12' AB Aluminum Tender with a Yamaha Four-Stroke 20hp outboard with a manual start will end at noon on Tuesday, Nov. 9. Participating yachts will be open to view by brokers from 8:30 a.m. to 4:30 p.m. on Nov. 7, 8 and 9 and from 8:30 a.m. to 1 p.m. on Wednesday, Nov. 10.
"With the competition amongst our bespoke charter companies for the sharpest edge, their crews finessing culinary skills to almost Michelin star, water sports offerings into the space-age with the latest technology and the territory constantly unveiling new things to add to an itinerary … It's no longer a secret, the U.S. Virgin Islands has the sure-fire elements for a charter of dreams.
"Since the U.S. Virgin Islands has become so popular, it's more important than ever that charter yachts wishing to stay at the forefront of the charter brokers' minds and to make their mark need to exhibit in the show — whether revealing a recent refit, introducing a new crew or simply to reconnect — and reforge relationships since the pandemic," said Oriel Blake, executive director of VIPCA.
COVID-19 Information
For information about COVID-19 protocols to enter the USVI, visit: www.usvitravelportal.com. For USVI Charter Yacht Show COVID protocols, visit https://vipca.org/covid-19-safety-protocols/. Walk-in COVID-19 testing will be available at Yacht Haven Grande Family Practice on Nov. 8, 9, and 10 for $100 with results available in 15 minutes. Appointments required: www.redhookfamilypractice.com.
Sponsors of the USVI Charter Yacht show include the USVI Department of Tourism; Yacht Haven Grande; IGY Marinas; Offshore Marine; the Gowrie Group; Catamaran Central; Moe's Fresh Market; Grey Goose, distributed by West Indies Company; Veuve Clicquot and Captain Morgan, distributed by Bellows International; Parts & Power Ltd., distributor of Northern Lights; Pamlico Group; the Charter Yacht Broker Association; Cardow Jewelers; Harbor Shoppers; and Viya Business Solutions.