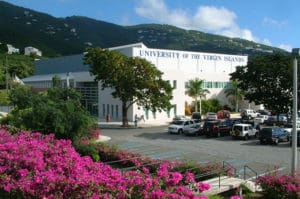 The University of the Virgin Islands Athletics Department has made the decision to cancel its playing season for Spring 2021 due to surging COVID-19 cases across the United States. COVID-19 has directly impacted all levels of intercollegiate athletics and is projected to rise within the U.S. southeastern hemisphere.
"The health and safety of our student-athletes, as well as our coaches, staff and all stakeholders, will always be our top priority," said Jerel Drew, Ph.D., UVI athletics director.
An increase of cases in Florida, Georgia, South Carolina and Louisiana, the competition states for all UVI athletic competitions, is expected to reach an all-time high. In light of this, the athletics department has concluded that the risks are far too great for student-athletes and staff to travel.
"We will take this time to focus on relaunching and rebranding our department," said Drew. "We will also focus on our local recruitment, sponsorships, community service and alumni engagement."
The playing season is expected to relaunch in the fall of 2021. "We look forward to the excitement fall 2021 will bring for UVI athletics," said Drew.
Please contact the Public Relations Office at pr@uvi.edu if there are any questions.