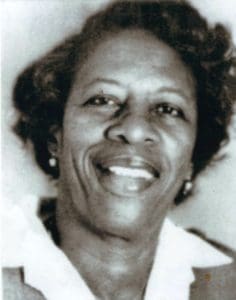 The University of the Virgin Islands joins the Virgin Islands community in mourning the loss of Ruth Elma Thomas, a widely respected linguist and educator who received numerous honors and awards for her outstanding achievements in education and community service.
Her efforts to elevate the standards of public education in the Virgin Islands are well-known throughout the community, and she made an unforgettable impact on the lives of so many people as a teacher and principal at Charlotte Amalie High School. As a member of the Reichhold Foundation Board since its inception, a longtime member of the UVI Board of Trustees and a part-time UVI faculty member, Thomas brought her expertise and love of teaching and the arts to the university. In recognition of her remarkable contributions to UVI, Thomas was awarded an honorary doctorate degree in 2017.
"On behalf of the UVI community, we are saddened to learn of the passing of Ms. Ruth Thomas," said David Hall, UVI president. "She was a close friend of the university and an avid supporter. Over her distinguished career, she guided students, teachers and administrators on a path to excellence, always determined to improve the future of the Virgin Islands. I extend my sincere condolences to the family and friends of Ms. Thomas," said Hall.
Former colleagues remembered Thomas as a caring and dedicated professional. UVI President Emeritus Dr. Orville Kean, Ph.D., knew her first as his high school English and Spanish teacher and worked alongside her during his presidency while she served on the board.
"As an educator, she was very concerned about appropriate student behavior and their use of standard English," Kean said. "As a board member, she was always very supportive of the administration and had confidence in our ability to carry out initiatives. She was an icon that stood out in her generation of leaders."
Former Reichhold Foundation Board Chairman Warren Williams was also a student of Thomas at CAHS. They later became colleagues at the school when Thomas was principal and Williams a teacher, and they served together on the Reichhold Foundation Board for many years thereafter.
"She had a passion for the university and for bringing arts to the islands," Williams said. "She always wanted to be sure the Reichhold season took in the diversity of the Virgin Islands and exposed the audience to the classics as well as what was popular. She was ahead of her time in that she understood that teaching also takes place outside of the classroom."
A graduate of CAHS, Thomas started her higher education at the City College of New York before transferring to Fisk University in Nashville, Tenn., where she graduated with a Bachelor of Arts in English in 1949. She returned to St. Thomas and began teaching at her alma mater. Two study leaves earned her a Master of Science in Linguistics in 1957 and an Education Specialist degree in secondary school administration in 1970, both from the University of Michigan at Ann Arbor. Thomas served at CAHS for 33 years until she retired from her post as principal in 1982. In 1998, legislation designated that the auditorium at CAHS be named the Ruth E. Thomas Auditorium.
Formal retirement did not curtail Thomas's involvement with education or service to the community. In addition to her service at UVI, Thomas did consulting and administrative work for the V.I. Community Action Agency; was a board member of the Girl Scouts and the Community Foundation of the Virgin Islands; and was a member of the League of Women Voters and V.I. Partners for Health.
Thomas served as a regular Monday morning commentator on WSTA's "Sound Off," which developed a large fan base and published anthologies of her commentaries and poetry.
"They don't make them like that anymore," said Williams fondly. "Her work was her life."