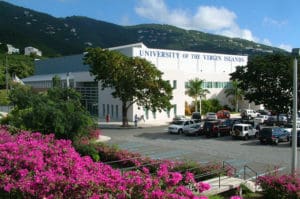 The University of the Virgin Islands (UVI) officially launched its new athletics website — www.UVIAthletics.com – last week, a fully redesigned and modern site that will serve as the all-important first impression of the Athletics Department. The debut of the new website coincided with the unveiling of the Buccaneers Sports Network (BSN), a brand-new mobile app for UVI athletics.
"We are excited to share this beautiful reimagining with everyone in the community," said Sports Information Director Ja'Shawn Steward-Johnson. "We are confident this will improve the online experience of students, student-athletes and fans of UVI by leaps and bounds."
The redesigned website features the new athletics logo for the university and is accessible and fully responsive, whether one is viewing from a mobile phone, a tablet or a desktop. On the homepage, visitors will find a scoreboard with upcoming games and scores of previous contests in addition to a media wall with social media posts in a large, easy-to-view format. Social media icons allow fans to follow UVI Athletics with a click of a button while sponsor logos recognize notable partners. Within the site, student-athlete profiles have the capability to allow for quick access to an individual's game logs and career statistics, as well as links to related articles.
Buccaneers Sports Network, the official app for the Buccaneers, is the mobile go-to for everything UVI Athletics. "The app is an absolute must-have for Buccaneer students, parents, fans and family as you will be able to view rosters, statistics, social media feeds, live score alerts, and much more," said Jerel Drew, Ph.D., director of athletics at UVI. "The development of the Buccaneers Sports Network will propel UVI Athletics into a new dimension."
An important feature of the Buccaneers Sports Network (BSN) is the ability to send news and updates related to the Wellness Center in the form of notifications. Wellness Center members are encouraged to download the app to stay on top of announcements.
In the coming weeks and months, the Athletics Department will continue to update the website with press releases and comprehensive coverage of the 2021-22 campaign, including the announcement of staff, rosters, schedules and information on new uniforms.
To download the app in the App Store or Google Play Store, search "Buccaneers Sports Network" or visit https://uvi.app.link/launch. Fans can follow UVI Athletics on Twitter and Instagram @/uvi_athletics; on Facebook @/uviathletics; or on YouTube (Buccaneers Sports Network).