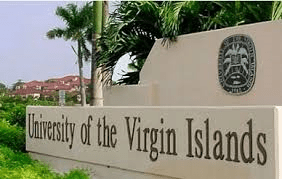 UVI Unveils Plan to Forgive Student Debt and Provide Additional Financial Support to Students The University of the Virgin Islands (UVI) unveiled its Comprehensive Student Financial Support Initiative today at a virtual Student Forum presenting plans to forgive student debt and introduce several major financial supports for its students. This effort was developed by the University to assist students in pursuing their education during the COVID-19 pandemic. The initiative will be funded through the U.S. Department of Education's COVID Relief Fund and by UVI.
"From hurricanes to a global health crisis, the UVI community has weathered many storms together. The ongoing pandemic has had numerous consequences on all of us and has made it much more financially difficult for students to continue their studies," said Dr. David Hall, UVI president. "We are very pleased to offer considerable relief to our students, regardless of their vaccination status, to ensure they can continue to pursue their education and thrive at UVI.  I believe this is the most ambitious and generous program the university has been able to offer at one time to its students."
As part of the initiative, which President Hall outlined in five pillars, UVI will eliminate all outstanding student obligations to the University that have been incurred since the Spring semester of 2020 through the end of the Summer session 2021. "Outstanding balances will be wiped out, removing your financial burden so you can focus on studies and get a fresh start," Dr. Hall told students.
More information is available in a news release on the Media Section of the UVI Website at www.uvi.edu/
The Caribbean Writer Calls for Creative Artwork for Volume 36 The Caribbean Writer (TCW) has issued a call for artwork submissions to grace the cover and interior sections of Volume 36 under the 2021 theme: "Disruption, Disguise and Illuminations." More and more, as history meets day-to-day experiences, epiphanies unfold and, as we self-interrogate the disruption motifs in many of these illuminations, the roots of prevailing disruptions emerge, complicated by disguise.  Artists are invited to explore and depict this theme in its widest permutations.
Those interested in having their artwork considered for use by The Caribbean Writer should submit electronic files in vertical format as PNG or JPEG files with a resolution of 300 dpi or greater. The journal also accepts black and white art (line drawings, sketches, block prints, etc.). Graphic poetry or narratives are not solicited or accepted.
Artwork for volume 36 will be accepted until Dec. 31 at www.thecaribbeanwriter.org/online-submissions/
In addition, writers may submit works of fiction, nonfiction, poetry, essays or one-act plays that explore the ideas resonating within the region and its diaspora. The Caribbean should be central to the work, or the work should reflect a Caribbean heritage, experience or perspective. Prospective authors should submit in Word format all creative works: drama, fiction and poetry manuscripts, through the online portal only at www.thecaribbeanwriter.org/online-submission
More information is available in a news release on the Media Section of the UVI Website at www.uvi.edu/
Students Encouraged to Submit Abstracts for the Fall Student Research Symposium The 22nd Annual Fall Student Research Symposium is tentatively scheduled for Sept. 26. Students interested in presenting their research should complete the online registration form and submit an abstract by Sept. 7. Early submissions of abstracts are encouraged. Students should be prepared to make their presentations in-person as well as virtually.
At the University of the Virgin Islands (UVI) Annual Student Research Symposium, students present the results of their research projects in a two-hour scientific poster session. A panel of judges will evaluate the student presentations and provide feedback.
Hosted by the Emerging Caribbean Scientists Program (ECS), and in collaboration with the College of Science and Mathematics, the symposium showcases student research with UVI faculty as well as at other mainland institutions. Disciplines include biology, marine biology, chemistry, education, computer science, technology, physics, astronomy, engineering, agriculture, psychology and mathematics.
Email questions to ecs@uvi.edu or call 692-4109.