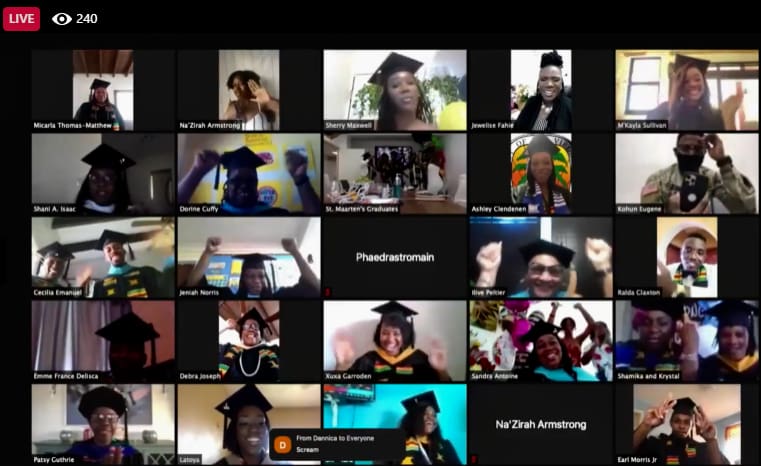 Having earned their degrees despite the disruptions of two Category 5 hurricanes and a global pandemic, University of the Virgin Islands graduates were urged in an inspirational ceremony to keep rising and achieving as they celebrated their commencement Friday afternoon.
"There are no graduates like you. You have spent your final year of college in suspended animation, after also having endured two hurricanes a few years earlier," UVI President David Hall told the graduates in a virtual ceremony streamed live on Facebook, YouTube and Twitter and filled with musical performances by UVI Concert Band and UVI Community Choir.
"You earned not only a degree but a medal of honor in perseverance. Some take what you did for granted, but I know it was not easy. Though you are not standing and getting ready to cross a physical stage, you are standing and ready to cross over into a new stage of your life," Hall said.
"Continue to rise, Class of 2021. Rise to the heights of your potential, rise above all that will continue to get in your way. Rise until you can't rise anymore, and then, still rise, for there is something in each of you that exceeds even your understanding of yourself, and even your understanding of your capacity for greatness. Rise, rise and rise again in everything you do and confront for the rest of your life," Hall said.
The university conferred 313 degrees, including six doctorates in creative leadership and innovation, and presented V.I. District Court Chief Judge Wilma A. Lewis with an honorary Doctor of Laws degree and UVI Board Chair Emeritus Alexander Moorhead Jr. and keynote speaker, Rev. Dr. Raphael Warnock, a U.S. senator from Georgia, with an honorary doctor of humane letters degrees.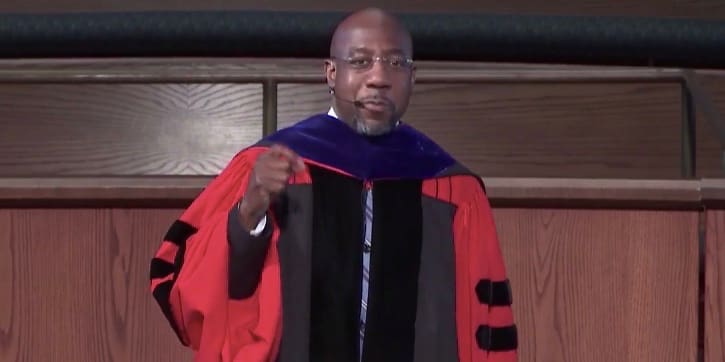 "A graduation ceremony at any college or any university is always a special moment, but it has a particular resonance at an HBCU, at a Historically Black College and University, because of our history," said Warnock, delivering his address from the pulpit of Ebenezer Baptist Church in Atlanta, the spiritual home of Dr. Martin Luther King Jr., where the senator has served as senior pastor for 15 years.
"We have come over a way that with tears, has been watered, treading our path through the blood of the slaughtered, yet with a steady beat have not our weary feet come to the place for which our parents sighed," said Warnock, the first Black U.S. senator elected in Georgia, referencing the poem, "Lift Every Voice and Sing," by James Weldon Johnson.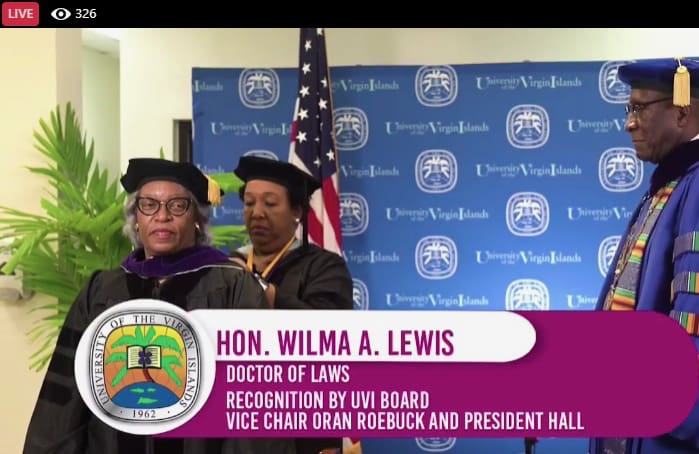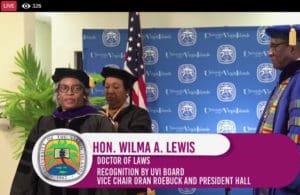 "Life threw at you hurricanes, a pandemic, chaos took its best shot and you are still there receiving your degree," Warnock said. "You should never doubt from this time forward that you can achieve whatever you desire to achieve. You crossed the river."
There will be more challenges – more rivers to cross, said Warnock, who recalled his upbringing in public housing in Savannah, Ga., the 11th of 12 children born to Pentecostal preachers.
"I remember my own journey. I stand as the pastor of Ebenezer Baptist Church, founded in 1886. I'm only the fifth senior pastor of this church. I stand as a United States senator. But you can't always look at where someone ends up. You gotta know what they had to go through to get to where they are," Warnock said.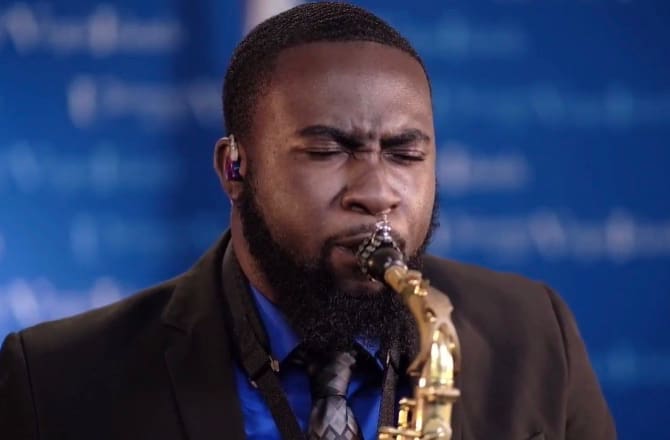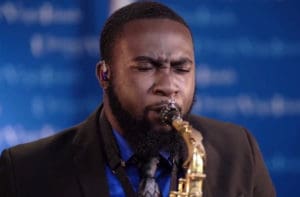 "I believed, and my family taught me, that I could achieve anything if I believed in myself, and I believed in God, and they taught me that if I would just discipline my mind and stayed focused, I could achieve great things," Warnock said.
His father would rouse him at 6 a.m., seven days a week, year-round, telling him, "Boy, get up, get dressed, get ready, put your shoes on," Warnock said. "Get ready for what? It's Saturday," Warnock would reply. "Just be ready," his father would say.
"All these years later, I am so grateful that I had a dad who taught me to just be ready because you never know what life may send you," Warnock said.
"It's your job to be ready" for whatever challenges and opportunities lie ahead, Warnock, told the graduates. He took that passion and sense of purpose and persistence to Morehouse College, another HBCU, which his parents could ill afford, but that he wanted to attend because it was King's alma mater.
On his first day, as Warnock looked around at the well-heeled students with fancy cars from the community's elite families, he did not know how he was going to pay for his first semester at a school where the tuition, room and board were higher than his parents' income.
"Don't worry about that, my beloved. Don't get caught up in the game of comparison," Warnock said, because four years later he was on the stage getting his degree – "cum laude, thank you lordy" – as some of those elite students were driving by the stage, but not walking across it. Fourteen years later, he would find himself standing in the same pulpit where Dr. King once preached.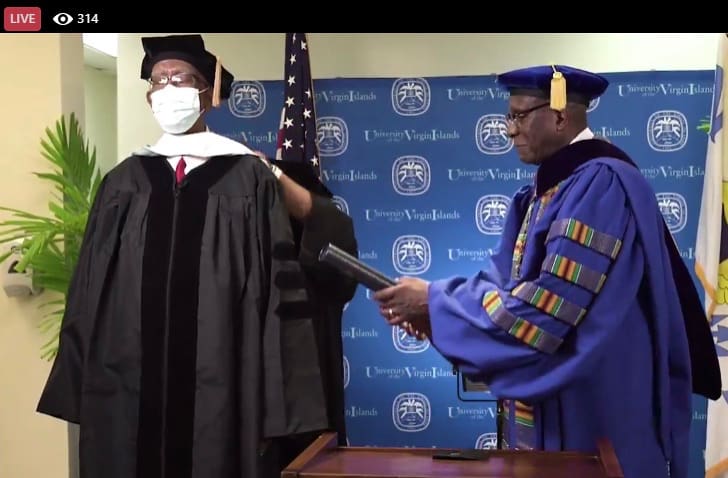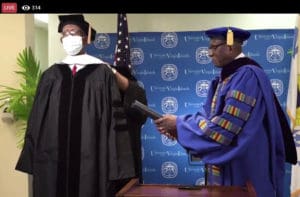 "My parents' income did not determine my outcome," said Warnock, who went on to earn Master of Divinity, Master of Philosophy and Doctor of Philosophy degrees from Union Theological Seminary, a school affiliated with Columbia University.
"It's not where you start, it's where you're going," Warnock said. "So, I just want to say to the mighty Class of 2021, whatever you do, keep pressing. Don't look to your left or your right, for what you see might distract you. Don't look behind you, for what you see might depress you. Keep pressing. You crossed the river. The ocean lies ahead," he said.
"All of us have some river to cross. In a real sense, all of us who are people whose skin has long been kissed by nature's sun are a part of a mighty river of resistance to our oppression. River of a people, part of the African diaspora, here in the continental U.S., and in the Caribbean, and abroad, part of a grand and epic story of a people who would never give up," Warnock said.
In his final charge to the graduates, after speeches by class speakers Kelvina Salters on St. Croix and Xuxa Garroden on St. Thomas, Hall urged them to continue their pursuit of knowledge and creativity.
"I charge you to leave this world better than you found it. You must understand that you are here to serve others as you care for yourself. I charge you to be leaders, like those whom we have placed before you today. If all of you do that, then justice, prosperity and peace will no longer remain an illusion for many, but will become a reality for all," Hall said.
"Finally, I charge you to be happy. Let that genuine happiness emerge from inside you, and then give it away," Hall said. "Love and happiness is something you give away, and you deserve to be authentically joyful and to spread that joy. Congratulations, Class of 2021, we will always remember you."
The University of the Virgin Islands 2021 commencement ceremony can be viewed in its entirety on the UVI Facebook page.